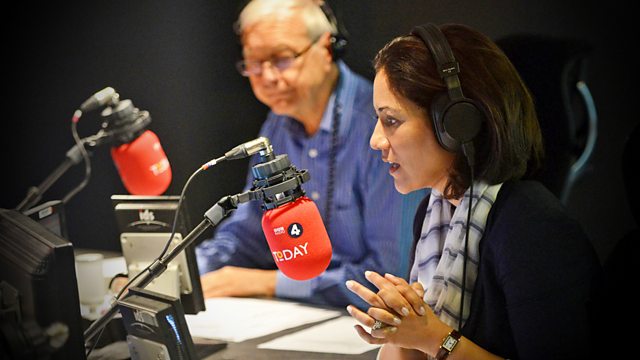 07/11/2008
Presented by Evan Davis and Edward Stourton.
Prof John Curtice discusses Labour's victory in the Glenrothes by-election.
BA chief executive Willie Walsh discusses the 90% fall in half-year profits.
Jean Hegarty, whose brother was killed on Bloody Sunday, discusses the delay of the Saville Inquiry report.
Tom Feilden reports on the 150th anniversary of Darwin's On the Origins of Species.
Chris Morris reports on how legal firms in the UK are outsourcing work to lawyers in India.
SNP deputy first minister Nicola Sturgeon says that Labour ran a scaremongering campaign in the Glenrothes by-election.
Mark Honigsbaum of the Wellcome Trust Centre talks about the global flu epidemic that hit at the end of WWI.
Thought for the day with Vishvapani, a member of the Western Buddhist Order.
Shadow minister for schools Nick Gibb and Mick Brookes of the National Association of Head Teachers discuss child discipline.
Scottish Secretary Jim Murphy, Tom Montgomerie of Conservative Home and political editor Nick Robinson discuss the Glenrothes by-election.
Ishbel Matheson of Save The Children says schools in the DR of Congo may have been targeted by armed groups.
Mark Coles talks to Hank Williams's daughter Jett about a collection of his unreleased recordings.
Robert Peston discusses why the banks are refusing to pass on interest rate cuts.
Jon Manel visits campaigners who face losing their homes if the new Heathrow runway goes ahead.
Lord Soley, director of pro-expansion campaigners Future Heathrow, discusses if there are alternatives to the runway.
Economist George Magnus says governments will face tough economic challenges because of the ageing population.
Fraser Nelson and Jackie Ashley discuss the security of Gordon Brown as PM.
Last on