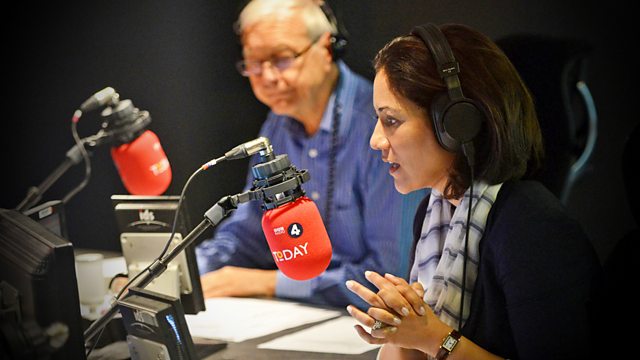 05/11/2008
Presented by James Naughtie and Sarah Montague.
North America editor Justin Webb and pollster Frank Luntz discuss the impact of Barack Obama's election as the president of the United States.
Chair of the independent commission on Scottish devolution Sir Kenneth Calman and Scottish political editor Brian Taylor discuss whether the Scottish Parliament has been working since devolution 10 years ago.
Former White House Chief of Staff Leon Panetta talks about the challenges facing Barack Obama.
Justin Webb looks at the key events of election night.
John Pienaar reports from Washington. Consultant and Republican strategist Terry Nelson evaluates how John McCain's campaign unfolded and what the Democrat victory means for the Republican Party.
Dr Colin Dark of the Forensic Science Service discusses a possible breakthrough in a 62-year-old rape and murder case.
Thought for the day with John Bell, of the Iona Community.
Robert H Tuttle, US Ambassador to London, discusses how Barack Obama's presidency will change the US.
Political consultant Bob Shrum believes Obama is someone who comes along once in a generation.
Tom Feilden reports on the development due to be built across the river from Hampton Court Palace.
Historians Niall Ferguson and Simon Schama discuss how the US has come to elect its first ever black president and how it represents a fundamental shift in the national mood.
Republican Governor Christine Todd Whitman hopes Obama's victory will mean a return to former principles of the Republican party.
James Cuno and Professor Lord Renfrew discuss where antiquities should be displayed.
Sir Christopher Meyer, former ambassador to the US, discusses how global euphoria could turn to anxiety if Obama does not live up to expectations.
Last on