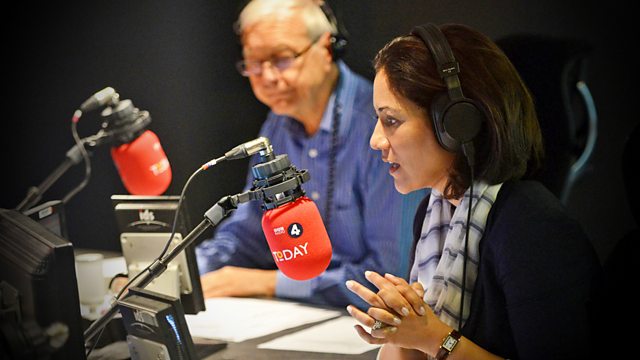 04/11/2008
Presented by Edward Stourton and Sarah Montague.
James Naughtie reports on what is expected to be the biggest turnout for a US election in history.
Jane Dreaper speaks to Susan Kiernan, the widow of a man who had pancreatic cancer and was denied life-prolonging drugs by the NHS.
Norman Smith reports on how the financial crisis and the "Brown bounce" seems to have given Labour a glimmer of hope in the Glenrothes by-election.
Adam Shaw speaks to Sir Stuart Rose, who says that 2009 will be a tough year for Marks & Spencer.
Business secretary Lord Mandelson says bank customers will expect banks to pass on interest rate cuts.
Novelist Margaret Atwood discusses the idea of debt as a driving force in fiction.
Kate Allen, director of Amnesty International, discusses the stoning of a 13-year-old girl in southern Somalia.
The new chief executive of RBS, Stephen Hester, discusses how the company can recover from the current financial crisis.
Boxer Joe Frazier and film director John Dower discuss a side to Muhammad Ali that is often overlooked.
James Naughtie discusses the US election race with Matthew Crenson of John Hopkins University.
Liberal Democrat peer Lord Lester and Tony Lloyd, chairman of the Parliamentary Labour Party, discuss whether trade unions could become highly vulnerable to infiltration from the BNP and the far right.
Japanese scientists say they have managed to clone mice from the bodies of other mice which have been frozen for 16 years. Prof Malcolm Alison discusses how the technology could be used.
Frank Gardner investigates whether US missile strikes into Pakistani territory are achieving objectives.
Playwright and critic Bonnie Greer and writer Diran Adebayo debate how we should talk about mixed race.
Last on