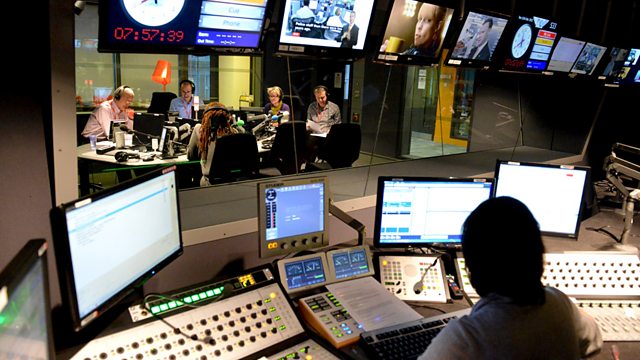 01/11/2008
Presented by Sarah Montague and Edward Stourton.
Peter Greste reports on international efforts to end the fighting in the DR of Congo.
Caroline Wyatt reports on the senior SAS commander who has resigned, accusing the government of "gross negligence" over the deaths of four of his soldiers in Afghanistan.
Quentin Sommerville reports from Beijing as more products are found to contain the chemical melamine.
Tim Franks reports on concerns that the trade agreement between the EU and Israel is being abused.
Frank Luntz analyses the latest polls in the US presidential election.
Professor Ngaire Woods, director of the Global Economic Governance Programme at Oxford University, says the IMF's reserves have not kept pace with the size of the emerging market economies.
Sanchia Berg follows the story of one American sub-prime mortgage.
Thought for the day with Rev Rob Marshall.
Conservative MP Patrick Mercer, a former army officer, discusses the safety record of the British army's Snatch Land Rover.
We ask Foreign Office Minister Mark Malloch Brown if UN peacekeepers can aid the DR of Congo.
Oral historian Alan Dean discusses the life of Studs Terkel.
Rebecca Jones looks at the appeal of the composer Karlheinz Stockhausen.
James Naughtie reports from Florida where the state electoral votes will decide the US presidency.
David Frith, former editor of Wisden Cricket Monthly, and former England player Steve James discuss whether the commercial nature of 20/20 cricket has changed the game.
Mark Mardell asks what it means to be German in 2008.
Dame Fiona Reynolds, director general of the National Trust, and Anthony Grayling, professor of philosophy at Birkbeck, discuss whether the National Trust can cheer us all up in a recession.
Last on
Paddington creator Michael Bond talks to Today