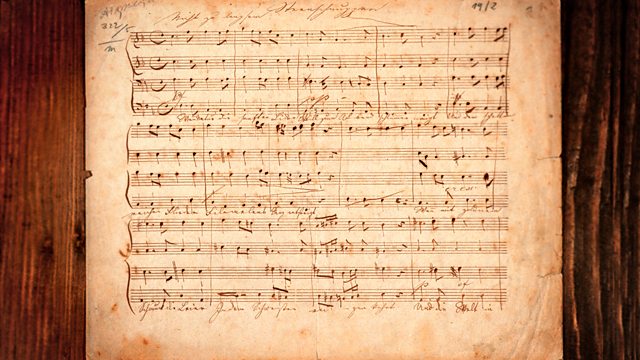 Man and Beast
With Hermione Norris and Jim Norton
Love them or loathe them, eat them or beat them, ride them or run from them, animals are ever-present in our lives. In exploring the age-old symbiotic relationship between man and beast, I have alighted on categories that take us, and them, from the home to the high seas, from the farmyard to the zoo, and from English downs to Grecian forests.
It is not all sweetness and light: George Macbeth's warm account of the pleasures of stroking a cat is balanced by Seamus Heaney's disturbing childhood memory of watching kittens drowned, and Vivaldi's breezy evocation of hunting leads directly to Ted Hughes's hard-hitting retelling of the tortured Ovidian tale of Actaeon, the hunter transformed into a stag as punishment for glimpsing the goddess Diana and dying a grisly death as quarry for his own hounds. Tom Waits tells how his hero, Frank, torches his own house just because he 'never could stand that dog', and later on we meet the beast as nemesis in passages from Coleridge's The Rime of the Ancient Mariner and Melville's Moby-Dick.
Elsewhere we sample a more pastoral atmosphere in Rosebud in June, an English summer folk-song that finds time to celebrate the economic benefits of sheep husbandry, while the early 20th-century nature writer WH Hudson explains the almost human qualities that make a first-rate sheepdog, as related to him by a downland shepherd. There is also a lesson in the rule-of-thumb of judging a good nag in Judith Weir's song On buying a horse, and an appreciation of fine horsemanship from Ben Jonson, while Haydn makes an elegant claim for Man's supremacy in an aria from The Creation.
A rather more intimate kind of relationship between men and animals is investigated in Samuel Pepys's description of one of his gargantuan, decidedly non-vegetarian meals, in Marriott Edgar's comic story of an inquisitive boy swallowed by a lion, and in the bizarre procession outlined by Burl Ives in I know an old lady. More romantically, Mark Roper shows how domestic hens' eggs can soothe the soul, while in The Flea John Donne manages the task of turning a blood-sucking parasite into an instrument of sexual seduction.
We end with the ominous final lines from Orwell's Animal Farm, as the faces of the pigs who had once led the animals in revolt become indistinguishable from those of their erstwhile overlords; and with The beast in me, a plain but harrowing account from Johnny Cash of a body cursed by dual occupancy.
Lindsay Kemp
READERS:
HM = Hermione Norris
JN = Jim Norton
0.00
George Macbeth
Fourteen Ways of Touching the Peter (HM)
01.39
Samuel Barber
The Monk and his Cat
Barbara Bonney & André Previn
DECCA 476 723 2 Tr 27
04.03
Seamus Heaney
The Early Purges (JN)
05.18
Trad. English
Rosebud in June
Steeleye Span
BGOCD324 Tr 2
08.58
WH Hudson
A Shepherd's Life (HN)
10.47
Antonio Vivaldi
'Spring' from 'The Four Seasons'
Amandine Beyer (violin), Gli Incogniti
ZIG-ZAG ZZT080803 Tr 9
13.00
Joseph Haydn
The Creation
Anthony Rolfe-Johnson & Michael George
AAM w. Christopher Hogwood
L'OISEAU-LYRE 430 397-2 CD2 Tr 9-10
16.51
Ben Jonson
An Epigram. To William, Earl of Newcastle (JN)
17.54
Judith Weir
On buying a horse
Andrew Kennedy & Iain Burnside
SIGNUM SIGCD087 Tr 1
20.11
Antonio Vivaldi
'Autumn' from 'The Four Seasons' (3rd movt)
Amandine Beyer (violin), Gli Incogniti
ZZT080803 Tr 16
23.06
Ted Hughes
Tales from Ovid (HN)
26.46
Benjamin Britten
Dance of Death (Hawking for the Partridge) from 'Our Hunting Fathers'
Ian Bostridge & Britten Sinfonia w. Daniel Harding
EMI CDC 556 871-2 Tr 13
33.07
Mark Roper
The Hen Ark (HN)
34.03
Samuel Pepys
Diary excerpt (JN)
35.26
Alan Mills & Rose Bonne
I know an old Lady
Burl Ives
EMI 576 323 2 Tr 3
38.07
Marriott Edgar
The Lion and Albert
Stanley Holloway (reciter)
CONIFER CMSCD007 Tr 3
42.28
John Donne
The Flea (JN)
44.01
Modest Mussorgsky
The Song of the Flea
Peter Dawson, un-named orchestra
GOLDEN AGE GX 2515 LP Side 1 Band 5
46.57
Noel Coward
Mad Dogs and Englishmen
Noel Coward, orchestra conducted by Ray Noble
EMI CDP 7322802 Tr 2
49.47
Tom Waits
Frank's Wild Years
Tom Waits, Ronnie Barron, Larry Taylor
ISLAND 5245192 Tr 10
51.39
Trad. Galli tribe (Ethiopia), trans Anon
If I might be an ox (HN)
52.14
William Byrd
My mistress had a little dog
Ian Partridge, Phantasm
SIMAX PSC1191 Tr 11
58.58
Samuel Taylor Coleridge
The Rime of the Ancient Mariner (JN)
61.04
John Cage
Litany for the Whale (excerpt)
Alan Bennett, Paul Elliott
HMU 907187 Tr 1
63.11
Herman Melville
Moby-Dick (JN)
66.22
Trad English
The Greenland Whale Fishery
The Watersons
TOPIC TSCD471 Tr 2
68.52
George Orwell
Animal Farm (HN)
71.25
Nick Lowe
The Beast in me
Johnny Cash
AMERICAN 74321236852 Tr 3
Last on