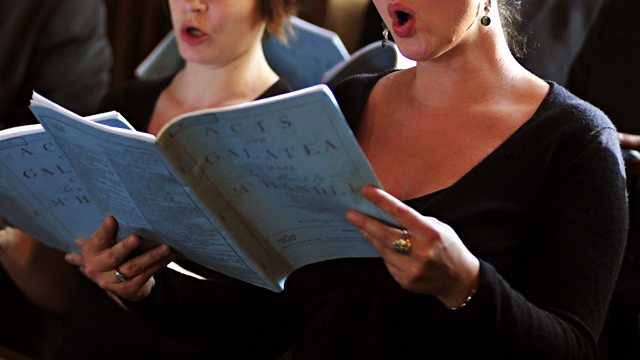 26/10/2008
Aled Jones samples some awesome vocal tricks when he is joined by two of the country's leading human beatboxers, Shlomo and Jestar*, aka Shlomo Kahn and Jeremy Sadler. They are both members of the Vocal Orchestra - the world's first and only human beatbox choir - which Shlomo set up in 2007. The programme features recordings from their popular series at the Queen Elizabeth Hall, and their gig at Glastonbury this summer. Shlomo and Jestar* also talk about their outreach projects, teaching people from all backgrounds to beatbox, including Aled Jones!
And there are more vocal tricks and treats in store with music for Halloween, All Saints and All Souls Day recorded especially for The Choir by The BBC Singers, including 'Ghost Stories' by Andrew Simpson, and Philip Ledger's Requiem: A Thanksgiving for Life.
Producer: Rebecca Warner
A selection of tracks performed by the Vocal Orchestra at the Glastonbury Festival and the Queen Elizabeth Hall this year, including performances by beatboxers Shlomo and Jestar*, guests in the studio.
Links:
Shlomo http://shlo.co.uk/
Jestar* www.myspace.com/gobforhire
Vocal Orchestra www.vocalorchestra.co.uk
Music (for All Hallows, October 31st)
Andrew Simpson: Ghost Stories
Edward Goater (tenor), Charles Gibbs (bass), with the BBC Singers, conducted by David Hill
Music (for All Saints, November 1st)
Kenneth Leighton: Give Me the Wings of Faith
Sian Menna (mezzo-soprano), Edward Price (bass), with the BBC Singers, conducted by David Hill, and with Stephen Disley on organ
Music (for All Souls, November 2nd)
Philip Ledger: Requiem (A thanksgiving for life)
Published by Encore Publications www.encorepublications.com - the work was recorded in association with The Britten-Pears Foundation
Alison Smart (soprano), Neil MacKenzie (tenor), and members of Endymion, with the BBC Singers, conducted by David Hill, with Stephen Disley on organ
Last on