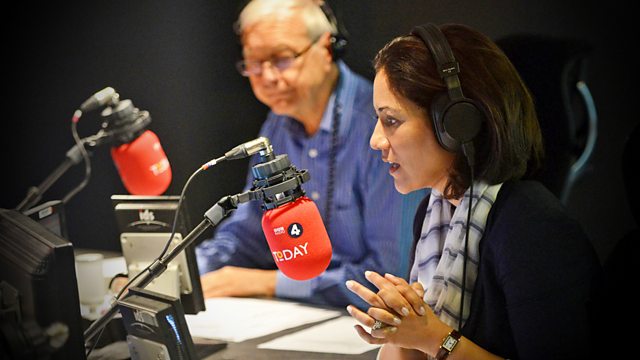 31/10/2008
Presented by John Humphrys and Sarah Montague.
Business Editor Robert Peston explains how Barclays have been able to source the necessary funds to avoid taking Treasury funding.
BBC Director-General Mark Thompson has addressed the media about the Radio 2 phone scandal. Conservative MP Nigel Evans, who called for Russell Brand and Jonathan Ross to be sacked, discusses if a line can now be drawn under the matter.
Journalist Christina Lamb discusses the eight million Afghans facing starvation.
James Naughtie reports on the early voting in the US election.
Jan Egeland, former UN Under-Secretary-General for Humanitarian Affairs and Emergency Relief, and Anneke Van Woudenberg of Human Rights Watch discuss the situation in the Democratic Republic of Congo.
The BBC's Andrew Marr, President of the Galapagos Conservation Trust, and Charles Darwin's great-great grandson Randal Keynes discuss the importance of the Floreana Mockingbird.
Thought for the Day with Rev Lord Harries.
Shadow Chancellor George Osborne discusses the government's plans to deal with the recession.
Chairman of the BBC Trust Sir Michael Lyons discusses the importance of taste and decency to the BBC.
Mark Mardell reports on how the German economy will fare in the face of a recession.
Director Ben Whalley and author Barney Hoskyns discuss the difficulties of documenting the musician Neil Young.
Poet Laureate Andrew Motion and novelist Alexander McCall Smith discuss the British Library's request to writers and others in public life to keep their texts, emails and other digital material for their personal archives.
Former Daily Telegraph editor Charles Moore and former Managing Director of BBC Radio Dame Liz Forgan debate the latest twists in the Radio 2 controversy.
Last on