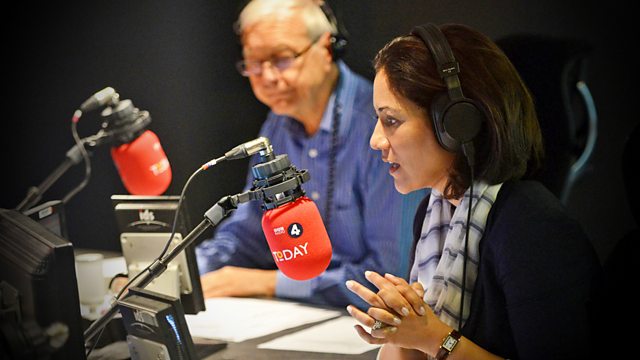 30/10/2008
Presented by John Humphrys and Sarah Montague.
Russell Brand has resigned from the BBC and Jonathan Ross has been suspended. With Director General Mark Thompson due to appear before the BBC trustees, Shadow Culture Secretary Jeremy Hunt discusses what the board should do.
Ian Pannell reports on an explosion in Kabul.
Bill Emery, Chief Executive of the Office of Rail Regulation, discusses rail funding.
Alice Gilbert of British medical aid agency Merlin discusses the difficulties facing aid agencies in the DR Congo.
Mark Mardell reports on German Chancellor Angela Merkel's preparations for next year's general election.
Andrew Hosken reports on a rise in asbestos-related illness.
Professor Marcus du Sautoy discusses breaking down public aversion maths.
Thought for the Day with novelist and columnist Anne Atkins.
Chancellor Alistair Darling discusses whether it is 'sensible' to increase government borrowing.
Media correspondent Torin Douglas, Kelvin MacKenzie and Sir Christopher Bland discuss the BBC's response to the Russell Brand/Jonathan Ross controversy.
Author Christian Bok explains how each vowel has a character of its own.
James Naughtie reports on the tight US election race in Indiana.
Chest consultant John Edwards discusses the damage still caused by asbestos.
It is 70 years since Orson Welles broadcast his radio adaptation of War of the Worlds, which caused widespread panic in the US. Professor Richard Hand and Guardian writer John Harris discuss whether the public has become more media savvy since the 1930s.
Jonathan Glancey, the Guardian's architecture editor, and Donald Insall, an architect whose firm specialises in restoration, discuss whether old buildings should be allowed to simply decay naturally.
Last on
So you think you know the Today programme?