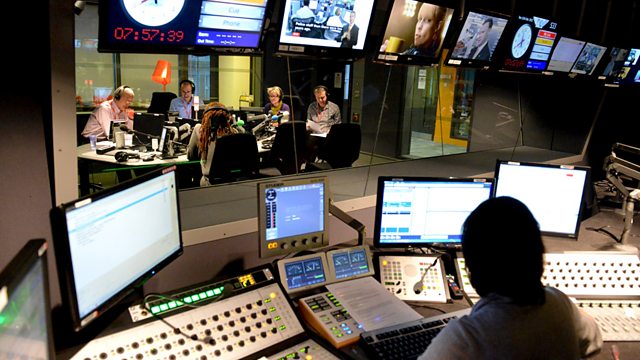 29/10/2008
Presented by John Humphrys and Edward Stourton.
Director of the Institute for Fiscal Studies, Robert Chote, discusses the government's fiscal policy.
Alistair Dutton, Christian Aid humanitarian manager for Africa, discusses the humanitarian effort in the Democratic Republic of Congo.
Labour MP John Grogan says the third runway at Heathrow Airport should not be built.
Kevin Connolly reports on how the swing state of Ohio could affect the US presidential election.
Angus Stickler talks to two former members of north London gangs.
James Naughtie speaks to Dr Samuel Pisar, the Auschwitz survivor who wrote and narrated a new version of the Kaddish Symphony.
As the BBC faces pressure to sack Russell Brand and Jonathan Ross following their on-air prank calls, former head of BBC's World Service Sir John Tusa and Stuart Murphy, former controller of BBC Three, discuss how the BBC should use licence fee payers' money.
Thought for the Day with Oliver McTernan, director of the NGO Forward Thinking.
Nick Robinson and former chairman of Bradford and Bingley Sir George Cox discuss the latest economic developments.
Lord Laming, who wrote the report of Victoria Climbie's death, and Maggie Atkinson, president of the Association of Directors of Children's Services, discuss how children's services can be improved.
Biographer Jimmy Burns discusses Diego Maradona's appointment as the new coach of Argentina's national football team.
On the 50th anniversary of jazz album Kind of Blue, Nicola Stanbridge speaks to the last surviving band member, Jimmy Cobb.
Information Commissioner Richard Thomas discusses the 277 breaches that he has recieved over the last year.
QCs Geoffrey Robertson and Martin Howe discuss the controversy over the Human Rights Act.
Last on