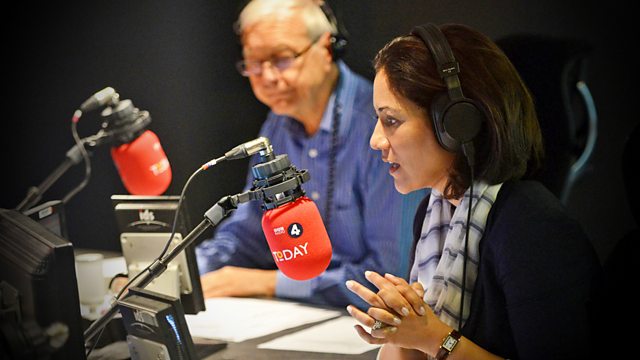 25/10/2008
Presented by Evan Davis and Edward Stourton.
John Dunford, General Secretary of the Association of School and College Leaders, discusses the announcement that more pupils are being suspended from school.
Quentin Somerville reports on UN summit in Beijing between European and Asian nations.
Vicky Young reports on Lord Mandelson's letter to The Times.
Professor David Crystal of Reading University says that text language is good for teen literacy.
Merryn Somerset Webb, editor of Money Week, discusses why the markets were hit so badly by news of a recession.
Mike Thomson reports on the local authorities that are struggling to meet the bill for their pension schemes.
Actor Dennis Hopper talks to Nicola Stanbridge about the US election.
Thought for the Day with Rev Roy Jenkins, Baptist minister in Cardiff.
Shadow Schools Minster Nick Gibb and Trevor Averre Beeson, an expert on problem schools, discuss whether schools are restricted in their ability to expel children.
Foreign Secretary David Miliband discusses hopes for the emergence of a new international agreement over the economy.
Justin Webb reports on the debate about the reliability of US presidential election opinion polls.
Barbara Broccoli, Michael G Wilson and film critic Peter Bradshaw discuss the new James Bond film, Quantum of Solace.
Kenneth Clarke and and Tim Congdon discuss calls for the Governor of the Bank of England Mervyn King to be replaced.
Ian Pannell explains reports of shootings in Afghanistan.
Golf commentator Peter Alliss explains why a round of 18 holes is just the tonic for grumpy old men.
Heather Wakefield of Unison, discusses public sector pensions.
Professor Jim Al Khalili discusses the legacy that Stephen Hawking will leave behind.
Last on