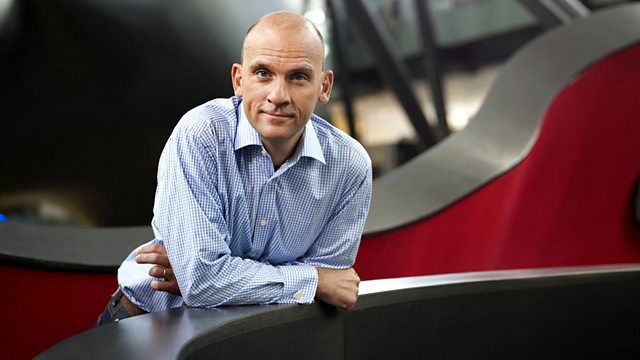 The John Escreet Project from the CBSO Centre, Birmingham
Jez Nelson presents a gig by pianist John Escreet recorded at Birmingham's CBSO Centre in October 2008. Playing original music, Escreet's group features New York alto saxophonist David Binney who won both Downbeat's critics' and readers' polls in 2007. Escreet has become one of the most sought-after players on the contemporary New York scene through his lyrical, yet modern approach to jazz.
Escreet was born in Doncaster and studied music in the UK, but moved to New York in 2006 to undertake a Master's degree at the Manhattan School of Music, where Kenny Barron and Jason Moran taught him. Since then he has led several of his own groups as well as performing with some of New York's best musicians, including Will Vinson, Marcus Gilmore and Wayne Krantz.
Playlist:
SIGNATURE TUNE
Artist Russell Gunn (Russell Gunn – trumpet, Gregory Tardy & Bruce Williams – reeds, Andre Heyward – trombone, Chieli Minucci – guitar, James Hurt – keyboards, Rodney Jordan – bass, Woody Williams – drums, Khalil Kwame Bell – percussion, DJ Apollo - turntables)
Track Title Seventy Four Miles Away
Composer Joe Zawinul
Album Title Ethnomusicology Volume 1
EXTRACT FROM THE JOHN ESCREET PROJECT FEATURING DAVID BINNEY RECORDED AT BIRMINGHAM'S CBSO CENTRE:
Artist The John Escreet Project (John Escreet – piano, David Binney –
alto saxophone, Ambrose Akinmusire – trumpet, Phil Donkin – double bass, Tyshawn Sorey – drums)
Track Title Suite of Consequence
Composer John Escreet
CD ROUND UP TRACK:
Artist Vandermark 5 (Tim Daisy – percussion, Dave Rempis – saxophones, Kent Kessler – bass, Fred Lonberg-Holm – cello, Ken Vandermark – reeds)
Title Speedplay (For Max Roach)
Composer Ken Vandermark
Album Title Beat Reader
Label Atavistic Records
LINK:
www.kenvandermark.com
THE JOHN ESCREET PROJECT FEATURING DAVID BINNEY RECORDED AT BIRMINGHAM'S CBSO CENTRE:
LINE UP:
John Escreet – piano
David Binney – alto saxophone
Ambrose Akinmusire – trumpet
Phil Donkin – double bass
Tyshawn Sorey – drums
SET LIST:
1) Wayne's World (John Escreet)
2) The Suite of Consequence (John Escreet)
LINK:
www.johnescreet.com
CD TRACK:
Artist Sonny Rollins
Track Title Tenor Madness
Composer Sonny Rollins
Album Title Roadshows: Vol 1
Label Doxy Records/ Emarcy/Universal
JEZ NELSON IN CONVERSATION WITH SONNY ROLLINS
CD TRACK:
Artist Sonny Rollins
Track Title Blossom
Composer Sonny Rollins
Album Title Roadshows: Vol 1
Label Doxy Records/ Emarcy/Universal
LINK:
www.sonnyrollins.com
SESSION TRACK:
Artist Arthurs, Hoiby, Richie
Track Title Leaves
Composer Tom Arthurs
LINK:
www.tomarthurs.co.uk
RECOMMENDED FURTHER LISTENING:
Artist John Escreet Project
Album Title Consequences
Label Positone/Rhombus (2008)
Artist Sonny Rollins
Album Title Roadshows: Vol 1
Label Doxy Records/ Emarcy/Universal (2008)
Last on