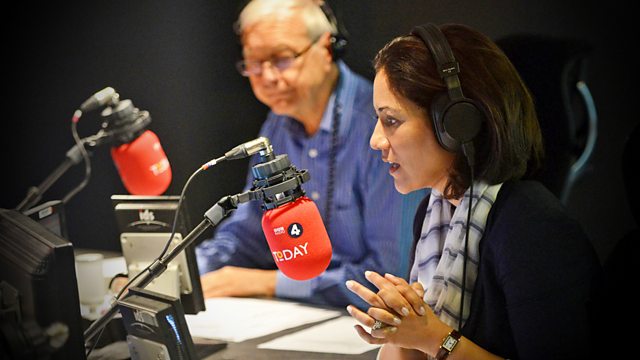 24/10/2008
Presented by Evan Davis and Edward Stourton.
Kenneth Rogoff, Professor of Economics at Harvard, discusses the latest crisis in the ongoing financial downturn.
Andy Hibbert, Director of the Parent Organisation, and John O'Farrell, author and parent governor, discuss whether parents should be resorting to legal advice over school entry.
Ros Altman of the Pensions Action Group analyses the changes to the state pension.
Zubeida Malik reports on the projects in Birmingham that have been receiving part of the government's counter-terrorism fund.
Simon Calder, the travel editor of the Independent, discusses the end of regional long-haul flights by BA.
Thought for the Day with The Right Rev Lord Harries.
Immigration minister Phil Woolas discusses the future of immigration policy.
Dr Paul Woolley, who set up the Centre for the Study of Capital Market Dysfunctionality, discusses whether a crisis of confidence now hitting hedge funds.
Author and playwright Alan Bennett discusses his decision to donate his literary archive to the Bodleian Library in Oxford.
Communities Secretary Hazel Blears discusses government funding to fight violent extremism among Muslims.
Mick Brookes, General Secretary of the National Association of Head Teachers, raises his concerns over bonuses for civil servants at the National Assessment Agency.
Oliver Stone is in London for the European premiere of his new film about George W Bush. Nicola Stanbridge met him to discuss what he really thought of his new leading man.
Mike Thomson reports on the continuing aid crisis in Haiti.
Benedicte Pavoit Stryker Maguire discuss a new poll which suggests that the UK is less preoccupied with the US election than our European neighbours.
Last on