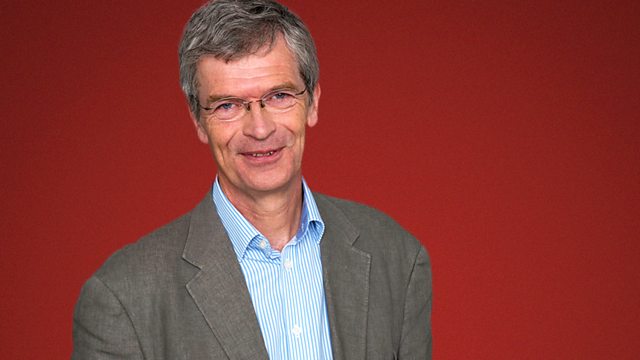 11/10/2008
With Geoffrey Smith.
Including:
JRR Signature Tune:
Oh, but on the Third Day (Happy Feet Blues) (Marsalis)
Performed by Wynton Marsalis (tpt), Marcus Roberts (pno), Todd Williams (tsx), Dr Michael White (clt), Danny Barker (bjo), Teddy Riley (tpt), Freddie Lonzo (tbn), Reginald Veal (bs), Herlin Riley (dms)
Recorded 28 October 1988
Taken from the album The Majesty of the Blues
1989 CD (CBS 465129 2)
A Monday Date (Earl Hines) (3'04'')
Performed by Jimmie Noone (cl,vcl) Joe Poston (cl,as,vcl) Earl Hines (p) Bud Scott (bj,g) Johnny Wells (d) Lawson Buford (tu)
Recorded Chicago, Aug 23 1928
Taken from the album The Complete Recordings, Vol. 1
1991 CD (Affinity CDAFAS10273(3); Disc 1 / Track 18)
Sing, Sing, Sing (Louis Prima) (2'49'')
Performed by Louis Prima and His New Orleans Gang:
Louis Prima (tp,vcl) Pee Wee Russell (cl) Joe Catalyne (ts) Frank Pinero (p) Garry McAdams (g) Jack Ryan (b) Georges Pemberty (d)
Recorded LA Feb 28 1936
Taken from the album Louis Prima and His New Orleans Gang
1999 CD (Classics Classics1077(1); Track 14)
If I Could Be With You (James P. Johnson / Henry Creamer) (3'15'')
Performed by Kenny Baker (tp) George Chisholm (tb) Derek Collins (cl,ts) Harry Smith (p) Jack Fallon (b) Lennie Hastings (d)
Recorded 13 Mar 1957
Taken from the album Half Dozen - Afterhours
CD (Lake LACD88(1); Track 3)
Lyonia (Tadd Dameron) (2'52'')
Performed by Ted Heath (dir) Bobby Pratt, Stan Roderick, Ronnie Hughes (tp) Jackie Armstrong, Maurice Pratt, Jack Bentley, Jimmy Coombes (tb) Les Gilbert, Reg Owen (as) Tommy Whittle, Henry Mackenzie (ts) Dave Shand (bar) Dave Simpson (p) Jack Seymour (b) Jack Parnell (d,vcl)
Recorded London, Sep 2 1949
Taken from the album The Beginning
LP (Decca DDV 5015, Rec.2; Side 4 / Track 1)
I'll Remember April (Don Raye / Gene De Paul / Pat Johnson) (2'46'')
Performed by Marjorie Hyams (vib,p) George Shearing (p,accor) Chuck Wayne (g) John Levy (b) Denzil Best (d)
Recorded NY, Dec 12 1949
Taken from the album Jazz Masters 57
1996 CD (Verve 5299002(1); Track 12)
Montevideo (Hal Schaefer) (2'55'')
Performed by Milt Bernhart (tb) John Graas (fhr) Paul Sarmento (tu) Bud Shank (fl) Bob Cooper (oboe) Howard Roberts (g) Harry Babasin (b) Shelly Manne (d) Pete Rugolo (arr,cond)
Recorded LA, Feb 23 1955
Taken from the album Rugolomania
LP (Philips BBL 7069; Side 2 / Track 3)
In Your Own Sweet Way (Dave Brubeck) (4'58'')
Performed by Dave Brubeck (p) solo
Recorded
Taken from the album The Essential Dave Brubeck
© 2003 CD (Columbia/Legacy 510594 2; Disc 1 /Trick 7)
Son of Thirteen (Pat Metheny) (5'42'')
Performed by Pat Metheny (g) Christian McBride (b) Antonio Sanchez (d)
Recorded Oct 19 2005
Taken from the album Day Trip
2008 CD (Nonesuch 7559-79956-1; Track 1)
Round Midnight (Thelonious Monk) (7'45'')
Performed by Stan Tracey (p) Steve Waterman, Noel Langley, Henry Lowther, Mark Armstrong (tp) Roger Williams, Mark Nightingale, Adrian Fry (tb) Peter King, Nigel Hitchcock, Andy Panayi, Evan Parker, Alan Barnes (saxophones) Andrew Cleyndert (b) Clark Tracey (d)
Recorded Jul 24 2004
Taken from the album Stan Tracey Orchestra at the Appleby Jazz Festival
2007 CD (ReSteamed. RSJ 103; Track 4)
All the Things You Are (Jerome Kern / Oscar Hammerstein) (7'23'')
Performed by The Quintet:
Dizzy Gillespie (tp) Charlie Parker (as) Bud Powell (p) Charles Mingus (b) Max Roach (d)
Recorded 1953
Taken from the album Jazz At Massey Hall
1989 CD (Debut OJCCD0442(1); Track 3)
African Market Place () (8'17'')
Performed by Abdullah Ibrahim (p) Ricky Ford (saxophone) Craig Handy (saxophone) Benny Powell (tb) David Williams (b) Billy Higgins
Recorded 1988
Taken from the album A Celebration
2004 CD (Enja ENJ-9476-2; Track 7)
Don't forget, you can have your say on today's programme, or any aspect of jazz, by visiting the Jazz Messageboard.
Last on