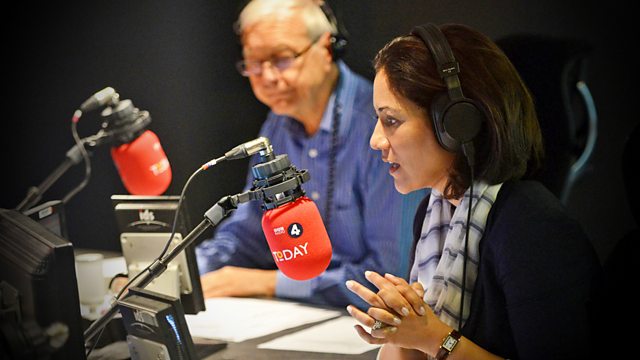 16/10/2008
Presented by John Humphrys and Sarah Montague.
Fund manager Mark Konyn of RCM Asia Pacific and business editor Robert Peston discuss the latest falls in the global markets.
Anna Walker, chief executive of the Healthcare Commission, explains that some GPs are missing appointment targets.
Justin Webb reports on the third and final US Presidential debate between John McCain and Barack Obama.
MPs John Redwood and Jim Cousins debate how the government should respond to the economic slowdown.
Survivors of a failed WW2 bombing mission remember the day their Halifax bomber was shot down over Berlin.
Thought for the Day with Rev Rosemary Lain-Priestley.
Health Secretary Alan Johnson responds to the Healthcare Commission's report on the NHS in England.
Former vice-chairman of Goldman Sachs International Antonio Borges discusses whether anything can be done to restore confidence to the markets.
Ian Morley, chairman of Corazon Capital, and Terry Smith, chief executive of Tullet Prebon, debate the future of hedge funds.
Jan Ravens reads author Sue Townsend's vision of the Queen online.
Jonny Dymond reports on whether EU leaders will continue to back Gordon Brown's proposals on global financial institutions.
Chris Morris reports from India, where an estimated eight million children are in immediate danger of starvation.
Professor Ofer Lahav of UCL discusses dark matter, one of the biggest mysteries of modern science.
Daily Mail sketch writer Quentin Letts and Times columnist Alice Miles discuss what it might be about Lord Mandelson that inspires such fascination for political commentators.
Professor Jim Horne, Director of the Sleep Research Centre at Loughborough University, debunks the myths surrounding sleep deprivation.=.
Last on