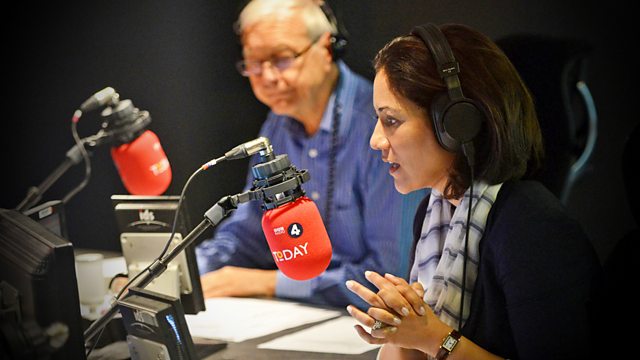 13/10/2008
Presented by James Naughtie and Evan Davis.
Hugh Pym and George Magnus, economic advisor to UBS, discuss the future of Britain's banking.
Jim Muir reports on why the government are opening up the Iraqi oil industry to foreign investment.
Sculptor Paul Day and Mick Whelan of ASLEF discuss a controversial frieze at St Pancras station.
The Royal Bank of Scotland RBS is to raise 20 billion pounds of new money, including 5 billion pounds directly from the government. Business Editor Robert Peston reports.
Lord Oakeshott and Paul Coen of the LGA discuss local authorities' investment in Icelandic banks.
Thought for the Day with Canon Dr Alan Billings, an Anglican priest.
Lord Harris and Lord Dear discuss plans to increase the detention time limit for terror suspects to 42 days.
Chancellor Alistair Darling explains why the government is to inject up to 37 billion pounds of new capital into banks.
Rebecca Jones talks to Booker Prize nominee Aravind Adiga, author of The White Tiger.
Business presenter Adam Shaw, Paul Killik of asset managers Killik and Co and Sir George Cox, former senior independent director of Bradford and Bingley, discuss the morning's announcements.
Gordon Brown is due to launch a masterplan to save the world's rainforests. Environment analyst Roger Harrabin reports on whether it will be successful.
Paul Wood speaks to an 18-year-old woman who has decided to become a suicide bomber.
TV explorer Bruce Parry and musician Ian Parton discuss the appeal of indigenous music.
Robert Peston, Sir George Cox and Professor Patrick Minford discuss the 37 billion-pound deal to help banks.
Last on