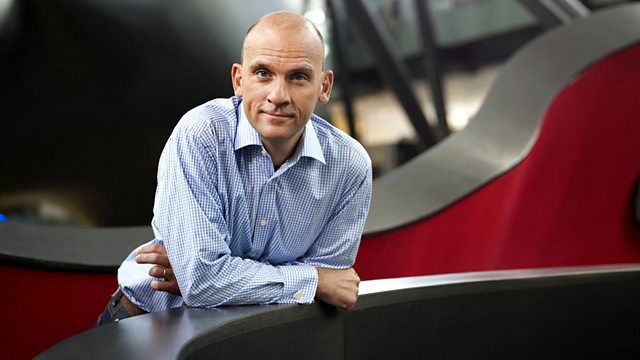 Dave Holland Sextet at Saalfelden Jazz Festival
Jez Nelson presents Dave Holland's Sextet in concert in August 2008 at Austria's Saalfelden Jazz Festival. Performing together for the first time in Europe, the group play songs from their most recent album Pass It On, featuring Dave Holland on bass, Robin Eubanks on trombone, Antonio Hart on alto saxophone, Alex Sasha Sipiagin on trumpet, Mulgrew Miller on piano and Eric Harland on drums. Holland's men create a captivating sound by striking the right balance between tight collective groves and freer periods of individualism.
British-born Holland was involved in London's vibrant free improvisation scene in the 1960s playing with The Spontaneous Music Orchestra. Shortly after, he was invited to join Miles Davis's band, with which he recorded the classic albums of his pivotal electric period, including Bitches Brew and In a Silent Way. Since then, Holland has played in the influential avant-garde group Circle with Chick Corea and Anthony Braxton as well as The Gateway Trio with John Abercrombie and Jack DeJohnette.
PLAYLIST:
SIGNATURE TUNE
Artist Russell Gunn (Russell Gunn – trumpet, Gregory Tardy & Bruce Williams – reeds, Andre Heyward – trombone, Chieli Minucci – guitar, James Hurt – keyboards, Rodney Jordan – bass, Woody Williams – drums, Khalil Kwame Bell – percussion, DJ Apollo - turntables)
Track Title Seventy Four Miles Away
Composer Joe Zawinul
Album Title Ethnomusicology Volume 1
INTRODUCTION AND EXTRACT FROM THE DAVE HOLLAND SEXTET RECORDED AT THE SAALFELDEN JAZZ FESTIVAL
CD TRACK:
Artist Todd Sickafoose
Track Title Future Flora
Composer Todd Sickafoose
Album Title Tiny Resistors
Label Crypto Gramophone
LINKS:
www.toddsickafoose.com
www.myspace.com/toddsickafoose
THE DAVE HOLLAND SEXTET RECORDED AT THE SAALFELDEN JAZZ FESTIVAL
LINE UP:
Dave Holland – bass
Antonio Hart – alto saxophone
Sasha Sipiagin – trumpet and flugelhorn
Robin Eubanks – trombone
Mulgrew Miller – piano
Eric Harland – drums
SET LIST:
1) Ebb and Flow (Holland)
2) Lazy Snake (Holland)
3) Double Vision (Holland)
4) Rivers Run (Holland)
LINKS:
www.daveholland.com
TREVOR WATTS & PETER KNIGHT RECORDED IN SESSION
LINE UP:
Trevor Watts – alto saxophone & drum
Peter Knight – violin
SET LIST:
1) A Seagull or Two (Watts & Knight)
JOHN FORDHAM TALKS TO TREVOR WATTS AND PETER KNIGHT IN THE STUDIO
SET LIST CONTINUED:
2) Smokey Mirrors (Watts & Knight)
1) Blue Tuesday (Watts & Knight)
LINK:
www.hi4headrecords.com
RECOMMENDED FURTHER LISTENING:
Artist - Trevor Watts & Peter Knight
Album – Reunion: Live in London
Label – Hi4Head Records
Artist – The Original Trevor Watts Drum Orchestra
Album – Drum Energy
Label – Hi4Head Records
Last on