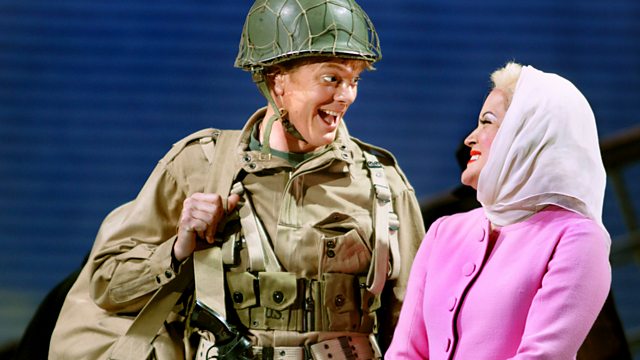 Candide
Martin Handley presents Leonard Bernstein's comic operetta Candide, recorded at London's Coliseum in July. Robert Carsen's controversial production for English National Opera updates Voltaire's savage 18th century satire from Europe to the Unites States of the 1950s, revealing the dystopian reality of the American Dream.
Voltaire/Pangloss/Martin: Alex Jennings
Candide: Toby Spence (tenor)
Cunegonde: Marnie Breckenridge (soprano)
Old Lady: Beverley Klein (mezzo-soprano)
Grand Inquisitor/Captain/Governor: Bonaventura Bottone (tenor)
Paquette: Mairéad Buicke (soprano)
Maximilian: Mark Stone (baritone)
Cacambo: Ferlyn Brass
Rumon Gamba: Conductor
Orchestra and Chorus of English National Opera
SYNOPSIS:
Act I
In Westphalia, Maximilian and Cunegonde, the children of the most powerful baron in the country, live in perfect harmony with their chambermaid Paquette and their poor relation Candide. They are tutored by Doctor Pangloss, who teaches them that 'everything is for the best in this best of all possible worlds'. But one day Candide is caught kissing Cunegonde and is thrown out.
He becomes a soldier, but is soon accused of desertion and sentenced to death, only to be pardoned at the last minute. War breaks out in Westphalia. As the fighting subsides, Candide discovers Cunegonde's body among the dead, and also finds his old teacher Pangloss, who is suffering from syphilis.
James, an Anabaptist, offers to help find a cure for Pangloss and suggests that they all set sail on his ship. But James's ship sinks, which doesn't stop Pangloss from insisting that everything is still for the best. As Candide and Pangloss manage to reach dry land an earthquake flattens the entire country, killing thousands. Pangloss and Candide are arrested and accused of being responsible for the catastrophe. An auto-da-fé is ordered to avoid any further disasters. The defendants are brought before the court, tried, and sentenced to death by hanging.
Cunegonde miraculously survived her death in Westphalia and has now begun to regain her previous quality of life. She shares herself between two rival protectors, Don Issachar and Don Cardinale. In order to make sure that the two men never meet, she relies on the help of an Old Lady with a mysterious past. Candide (who has miraculously survived being hanged) is amazed to discover that Cunegonde is alive and well. As they fall into each other's arms, Don Issachar appears and insults Cunegonde. Candide kills him. Don Cardinale then appears, and the same fate befalls him. Encouraged by the Old Lady, Candide and Cunegonde decide to flee. With the help of a Captain, they all set sail for the New World, in search of a better life.
Act II
Candide, Cunegonde, the Old Lady and Cacambo (a Native American Indian recruited by the Captain to help Candide on his travels), arrive in the New World. The Officer who selects the immigrants is immediately attracted to Cunegonde. Cacambo informs Candide that even in the New World he is still wanted for murder. They have no choice but to leave Cunegonde behind and flee once again.
As they begin their travels, Candide and Cacambo come across a religious group which includes Maximilian. Recognizing Cunegonde's brother, Candide tells him that his sister is still alive and that he intends to marry her. When Maximilian opposes this idea, an argument breaks out and Candide kills Maximilian. Yet again Candide and Cacambo are forced to flee. Discovering Eldorado, Candide becomes incredibly rich, but he is unable to enjoy his new-found wealth by himself. He sends Cacambo back to try and find Cunegonde, while he looks for a ship to take them all to safety.
During his search, Candide meets Martin, a poor man who is as pessimistic as Pangloss is optimistic. Martin tells Candide that the world is a horrible place, full of horrible people. In spite of this new lesson, Candide puts his trust in a greedy businessman, Vanderdendur, who pretends to help Candide while selling him a leaky boat and stealing all his money. The boat sinks, but Candide finds his stolen money floating on the water along with the half-drowned Pangloss (who has also miraculously survived being hanged), who continues to repeat his mantra of optimism.
They end up in a casino where Paquette and Maximilian (who has miraculously survived being killed by Candide) also work. Ragotski, the owner of the casino, encourages Cunegonde and the Old Lady to use their charms to steal Candide's money. Cunegonde's mask falls from her face, and Candide is forced to recognize that she is not the faithful woman he always imagined her to be. He further realizes that human happiness is to be found neither in Pangloss's unconditional optimism nor in Martin's die-hard pessimism, but somewhere in between.
Candide concludes that it would be best to try and 'make our garden grow'...
©Robert Carse
Last on