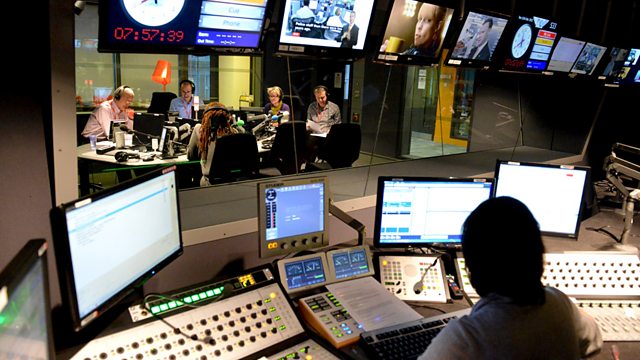 09/10/2008
Presented by John Humphrys and Evan Davis.
Tony Travers from the London School of Economics discusses the risks taken by local councils by investing in Icelandic banks.
Huw Williams investigates the impact of the financial turmoil on the value of pensions.
Dr Richard Vautrey, deputy chairman of the BMA GP Committee, says that GPs' income has actually fallen.
Roger Bowdler of English Heritage says that some of the country's graveyards are falling apart.
Quentin Sommerville investigates whether China can escape the economic misery being felt by the rest of the world.
Rebecca Jones talks to Philip Hensher, author of the Man Booker-nominated novel The Northern Clemency.
Thought for the Day with Rev Rosemary Lain-Priestley, Dean of Women's Ministry in central London.
Boris Johnson discusses the decision to 'turn the switch off' the Met chief Sir Ian Blair's tenure.
Jim O'Neill, chief economist at Goldman Sachs, and Neil Mackinnon, chief currency strategist at ECU Group, discuss the government's financial rescue plan.
Nick Chard, a cabinet member of Kent County Council, and John Ransford of the Local Government Association discuss local authorities' investment in Icelandic banks.
Novelist and poet AS Byatt and Sam Leith, literary editor of The Telegraph, discuss why the last US winner of the Nobel Prize was in 1993.
Economists Tim Congdon and Liam Halligan discuss whether the Bank of England has bowed to political pressure by cutting interest rates.
Mark Simpson reports on the problems facing pubs in Ireland.
The Clash guitarist Mick Jones discusses the lasting appeal of the band with Robert Peston.
Author and philosopher AC Grayling and journalist Kerry Gill discuss the lifestyles of the 'baby boomers'.
Last on