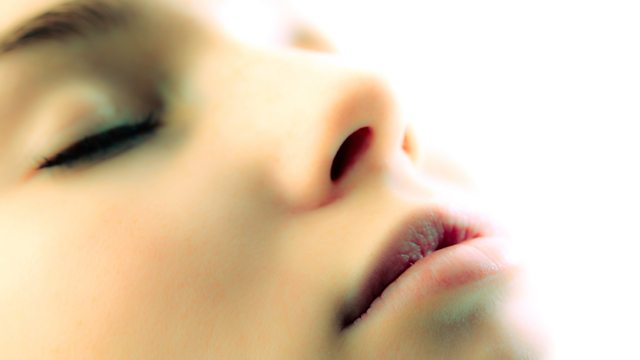 Face
How does one analyse a face? The common cliche of a phenomenon being greater than the sum of its parts could not be more apt.
I've tried to create a journey, beginning with faces in a crowd – each unique – as observed by Whitman. The focus shifts onto the eyes, the windows of the soul. From Newton's laid back arrangement of the jazz classic Angel Eyes , through Poulenc's surreal La Dame Aveugle (the blind woman) to a knowing glance from the winking, blinking maid, it's all rather tiring so what better way to sink into a slumber than with a children's poem Wynken, Blynken and Nod which I still read to my own little ones at bedtime.
Barlow's ecstatic eulogy on the face of a loved one is tinged with sadness, for there is a large age gap between them. Not such a problem for young Narcissus, as he unwisely falls for his own reflection, a story echoed by the wicked queen in Little Snow White as she gazes into her mirror. The music here is Tcherepnin's Narcisse et Echo, rarely heard and yet so effective.
Age will always win in the end, of course, eating away at youth's bloom. Wilde's Dorian Gray thinks he has the answer – give away your soul and hide a portrait in the attic. Simple! But we all know it won't end there…
What about those who are born without beauty? Mary Webb's heroine in Precious Bane is cursed (as she sees it) with a hare lip. Another facially challenged hero is Rostand's Cyrano, unforgettably portrayed on screen by Depardieu in a film which used Burgess's virtuosic translation as subtitles.
The sad fact is that for those who are not blessed with beauty or are cursed with some facial flaw, finding a partner is very hard work. Eliza Cook's Song of the ugly maiden is one of the saddest poems I know, particularly poignant when you remember that in the 19th century when it was written, marrying was essential for any woman who wanted any kind of independence or financial security.
Like any fairy tale, we all need a happy ending, so as little Gerda kisses away Kay's tears in the Snow Queen we can see clearly that love is the ultimate salvation. A kiss communicates so much, from that first sensation of electricity – so wonderfully described in Purcell's erotic Sweeter than roses, to tenderness from an old friend. Beauty is only skin deep, and as Ella sings so wonderfully, when we eventually find our soul mate, we come to love that face which we see every morning over the breakfast table, no matter what it looks like.
Helen Garrison (producer)
Readers: Michael Maloney (MM) and Lesley Sharp (LS)
Hildegard of Bingen O pulchrae facies
Sequentia
DHM GD77020
Walt Whitman
Faces (extract)
MM
David Newton Angel Eyes
Linn AKD 087
Mary Elizabeth Coleridge
Eyes
LS
Poulenc La Dame Aveugle (from Le Bal Masque)
W. Holzmair (baritone)
Saito Kinen Orchestra
S. Ozawa
Philips 456 504-2
Edward Lear
Limerick
MM
Fred Emerson Brooks
The Girl That Winked Her Eye
LS
H. Warren/J. Mercer arr Nelson Riddle Jeepers Creepers
F. Sinatra
Capitol 0 7777 48470 2 5
Eugene Field
Wynken, Blynken, and Nod
LS
Gurney orch Finzi Sleep
C. Maltman (baritone)
BBC SSO
M. Brabbins
Hyperion CDA67065
George Barlow
To a Face
MM
Harle Since first I saw your face
S. Leonard
John Harle Band
Argo 452 605-2
Christopher Marlowe
Was This the Face
MM
Piazzolla arr. Lluís Vidal Milonga del ángel
P. Mainetti (bandonéon)
Orquestra de Cambra Teatre Lliure
Josep Pons
HMC 901595
Christina Rossetti
In an Artist's Studio
LS
Oscar Wilde
The Picture of Dorian Gray
MM
Brothers Grimm
Little Snow-White
LS
Nikolai Tcherepnin Narcisse et Echo
Residentie Orchestra The Hague
G.Rozhdestvensky
CHAN 9670
Ovid Trans. Joseph Addison
The Story of Narcissus (Metamorphoses)
MM
Ramón de Campoamor
Trans. Thomas Walsh
Two Mirrors
LS
Oscar Wilde
The Picture of Dorian Gray
MM
George Michael Cowboys and Angels
Epic 491705 2
Mary Webb
Precious Bane
LS
Dowland Pavan Lachrimae Antiquae
Fretwork
Virgin VC 7 90795-2
Anon trans. William Cowper
Beware the Crystal Brook
MM
Edmond Rostand trans. Anthony Burgess
Cyrano de Bergerac
MM
Liza Lehman If no one ever marries me
Janice Watson and Steuart Bedford
Collins 15082
Eliza Cook
Song of the Ugly Maiden
LS
Tavener Tears of Angels
C. Gould
BT Scottish Ensemble
Linn CKD 085
Oscar Wilde
The Picture of Dorian Gray
MM
Vaughan Williams Intermezzo "My Bonny Boy": Andantino (from English Folk Song Suite)
RNCM Wind Orchestra
T. Reynish
CHAN 9697
Hans Christian Andersen
The Snow Queen
LS
Debussy The Snow is Dancing
P. Rogé
Decca 443 021-2
Elizabeth Allen
Kisses
LS
Purcell Sweeter than roses
N. Argenta (sop)
N. North (archlute)
R. Boothby (gamba)
Virgin VC 7 59324 2
Lucien Stryk
Winter Storm
MM & LS
Gershwin arr Riddle Funny Face
E. Fitzgerald
N. Riddle and his Orchestra
Verve 825 024-2
Last on