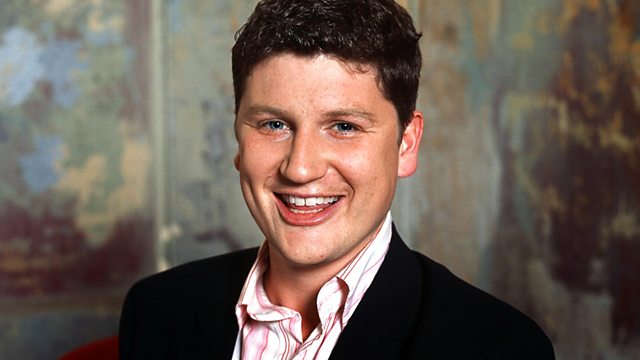 04/10/2008
Tom Service meets young Latvian conductor Andris Nelsons as he takes over the reigns of the City of Birmingham Symphony Orchestra.
The life of Thomas Beecham falls under the spotlight as author John Lucas presents new material on the conductor's private life, including his visits to Nazi Germany and his views of its leaders.
And singing Rossini - what exactly does it involve? Credited with the invention of the modern tenor, Rossini makes demands of his singers that far exceed those of his predecessors. Some of today's leading Rossinians reveal the secrets of their success, pianist and vocal coach Gerald Martin Moore looks back at some of the great Rossini singers of the past, and opera historian Emanuele Senici explains why singers in Rossini's day had it so much easier than the divas of today.
Andris Nelsons
29-year-old Latvian Andris Nelsons has just taken over as Music Director of the City of Birmingham Symphony Orchestra, Simon Rattle and Sakari Oramo's old job. Many saw his appointment as a risk, coming as it did on the basis of a recording session and a couple of private performances. But it seems the risk has paid off: his opening concerts have gone down a storm in Britain's second city. Tom Service meets Nelsons and hears how his musical life as a pianist, trumpeter, composer, and pupil of Mariss Jansons prepared him for life on the podium.
Andris Nelsons conducts concert performances of Puccini's La Boheme with the CBSO October 23 – 25th
Rossini Voices
Rossini singing is going through its biggest ever renaissance. Not since the early 19th century have Rossini's operas been as popular as they are now – thanks largely to a new generation of interpreters who are devoting their lives to Rossini's coloratura, his comedies – and his tragedies. Tom meets mezzo Joyce DiDonato, Italian musicologist Emanuele Senici, vocal coach Gerald Martin Moore and tenor Bruce Ford to find out how this new tradition of Rossini singing relates to what Rossini himself wanted from his leading ladies and gentlemen.
The Royal Opera House's production of Rossini's 'Matilde de Shabran' will be broadcast on Opera on 3 Saturday 22nd November at 6pm
Beecham
Tom meets John Lucas, whose new biography of Sir Thomas Beecham scotches a few myths about one of classical music's most colourful figures. Beecham fed many of the myths himself, his autobiography is full of factual errors, and his public persona, especially in his later years, was a manufactured mix of dandified wit and obfuscation. But John Lucas explains that behind these public affectations was a musician of real seriousness and ambition, who almost single-handedly transformed the pre- and post-war cultural landscape: setting up orchestras that are still around today (the Royal and London Philharmonics) and making opera part of British musical life. We also hear from two musicians who played with Beecham: Raymond Cohen, who worked with Sir Thomas and the Halle in 1936 – and trumpeter David Mason, who performed in the first ever Royal Philharmonic season in 1946.
Thomas Beecham: An Obsession with Music by John Lucas is published by Boydell & Brewer, £25
Raymond Scott
This year marks the centenary of musical maverick Raymond Scott's birth. Scott poses a series of musical paradoxes: he had a jazz quintet - which consisted of six players; he insisted that the musicians never improvise - but he never gave them sheet music; and he invented some of the most potentially influential electronic instruments of the 20th century - but he refused to make any of them public. And yet his influence spread everywhere. Now a new generation of composers and musicians are discovering Scott's unique musico-technological inventions. Tom talks to Scott's collaborator Herb Deutsch, Irwin Chusid, chairman of the Raymond Scott archive, as well as his wife, Mitzi.
Stuart Brown and his Raymond Scott Project Quintet, will be playing at Kings Place Arts Centre on 14th October
Last on