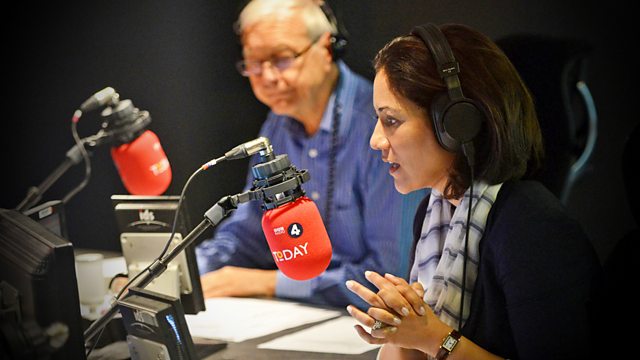 01/10/2008
Presented by James Naughtie and Evan Davis.
Pippa Malmgren, former adviser to President Bush, discusses the new US financial rescue plan.
Barbara Plett reports on the details of an attack by an unmanned US drone in Pakistan.
Hugh Sykes reports on 'Awakening' groups in Iraq, former insurgency fighters who have turned against Al Qaeda and now fight them with US help.
Angela Knight, chief executive of the British Bankers Association, says there is no need to panic about the possibility of bank collapses.
Sanchia Berg interviews Robert Meeropol, son of Julius and Ethel Rosenberg, the New York couple executed after being found guilty of passing WW2 atomic secrets to the Soviet Union.
Thought for the Day with the Right Rev James Jones, Bishop of Liverpool.
Shadow Foreign Secretary William Hague discusses whether current financial turbulence has overshadowed the Tory Conference.
Sir Brian Pitman, the former chairman of Lloyds TSB, says that the UK will return to a safe banking model.
Helen Walasek and Bill Tidy discuss the long-lasting appeal of Punch magazine.
Professor Christofer Toumazou discusses a one million pound annual investment in 'blue skies' scientific research.
Author Nassim Nicholas Taleb and Larry Elliot, economics editor at the Guardian, discuss recent financial events.
Journalists Martin Kettle and Trevor Kavanagh discuss the political conference season.
Last on