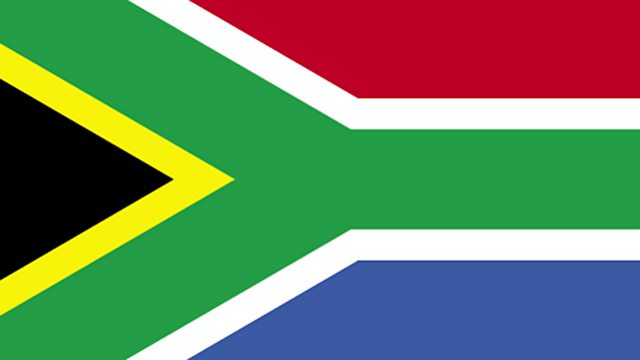 South Africa
RUNNING ORDER
Timings are approximate and given in hours and minutes from the start of the Zone.
00:00 Turning Points Episode 1. Bob Wylie with Murphy Morobe, one of the first leaders of the struggle against apartheid in the Soweto revolt of 1976.
00:31 Breaking News. Colin Blane chatted with journalist Rodney Pinder, the reporter who followed Nelson Mandela on his epic journey from prison to presidency.
01:03 Turning Points Episode 2. Bob Whylie profiles Matthew Goniwe, one of the leaders of the struggle against apartheid. In 1985, he paid the ultimate price when he was murdered by a South African police death squad. Matthew's wife Myakema talks to Bob about the days of the political uprising.
01:35 Songlines: N'kosi Sikelele I'Afrika. The South African national anthem has evolved over many years, reflecting the historical, political and cultural revolution that the country has undergone. John Cavanagh reveals the stories behind the song.
02:06 Turning Points Episode 3. Bob Wylie encounters encounter FW Klerk, the last white Afrikaans President who first brought the walls of apartheid tumbling down.
02:37 When Pop and Politic Met: Free Nelson Mandela. Back to the 1980's and a time when political song moved into the global arena with the Free Nelson Mandela 70th birthday tribute concert. The event served to focus the world's attention on the plight of the then political prisoner and ultimately contributed to his release.
03:15 Turning Points Episode 4. Bob Wylie hears from the man who brought millions into the struggle against apartheid but ended up in jail for embezzling aid funds – the Reverend Allan Boesak.
03:46 Christmas Carols and the Secret Police. How do South Africans regard Scotland? For some, it offers the opportunity of a new life. Frieda Morrison meets one South African who now calls Scotland his home.
03:57 Turning Points Episode 5. Bob Wylie meets Irene Charnley, the union organiser turned dollar millionaire who made the swift journey from the barricades to the boardroom.
04:27 The Pain of the Game. Brian Cooney meets Zola Budd, the South African born athlete who ran for Great Britain in the 1984 Los Angeles Olympics. Barefoot, Zola tried to take on the world, but the political and personal storms she'd left behind in South Africa were never too far away.
04:59 Turning Points Episode 6. Bob Wylie meets the man they call South Africa's Ghandi – Zackie Achmat.
Last on