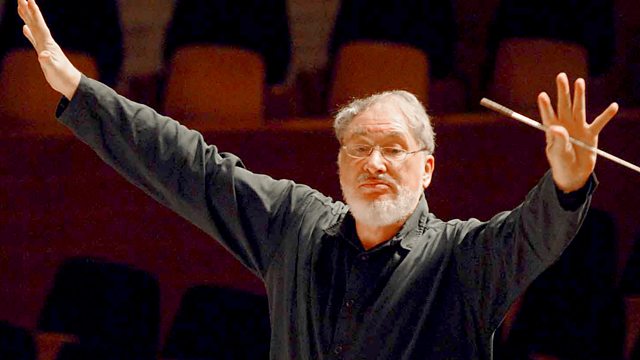 The Rise and Fall of the City of Mahagonny
A concert performance of Kurt Weill and Berthold Brecht's anti-capitalist masterpiece, The Rise and Fall of the City of Mahagonny given by the Royal Scottish National Orchestra conducted by HK Gruber. Recorded at the Usher Hall on August 8th at the opening concert of the Edinburgh International Festival. Introduced by Donald McLeod who also talks to the conductor about the context of the piece and Weill and Brecht's influence on subsequent operatic developments.
CAST
Leokadja Begbick: Susan Bickley (mezzo soprano)
Fatty: Jeffrey Lloyd-Roberts (tenor)
Trinity Moses: Alan Opie (baritone)
Jenny: Giselle Allen (soprano)
Jimmy Mahoney: Anthony Dean Griffey (tenor)
Jack Smith, Toby Higgins: Peter Hoare (tenor)
Bill: Stephan Loges( baritone)
Joe: Brindley Sherratt (bass)
Hannah Gordon - Narrator
Ladies of the Royal Scottish Academy of Music and Drama
Edinburgh Festival Chorus
Christopher Bell - chorus master
Royal Scottish National Orchestra
HK Gruber - conductor
SYNOPSIS
ACT I
A battered truck breaks down; its passengers are Leokadja Begbick, Fatty and Trinity Moses, three fugitives from justice who are charged with slave-trading and fraud. Realizing that it will be easier to extract gold from men than from the rivers they find themselves in, they decide to found a city of pleasure: it will be called Mahagonny, a spiderweb to attract men to have fun (as there is nothing else dependable in life). News of Mahagonny spreads; it attracts Jenny Smith, a prostitute, and her friends (the 'sharks'). Singing the Alabama Song, they set out in pursuit of whisky, dollars and pretty boys. Fatty and Moses go to the big industrial cities to recruit the disillusioned to join them in their city of gold. Four Alaskan lumberjacks (Jim Mahoney and his friends Jack, Bill and Joe), who have shared hard times and made their fortunes, look forward to the pleasures of Mahagonny. Begbick introduces herself and tries to interest them in her girls. Haggling ensues, and Jim chooses Jenny; they get to know one another. Mahagonny suffers a financial recession: people are leaving in droves and crime is high; the price of whisky is falling. Begbick suggests going back to 'civilization' but she is still a hunted woman. Jim also wants to leave but is dissuaded by his friends. In front of the Hotel Rich Man, the men of Mahagonny are smoking and drinking and listening to a pianist playing 'The Maiden's Prayer'. Jim says that Mahagonny has become too peaceful and dull. As if in answer to his complaint, the city is threatened by a hurricane. Jim compares the savagery of Nature with the greater destructiveness of Man. He protests that there are too many regulations in the city and that society should be based on permissiveness: 'In this world you must make your own bed'.
ACT II
The hurricane miraculously bypasses Mahagonny. Jim's theory must be right: every man for himself. They will devote themselves to the four pleasures of life: eating, lechery, fighting and drinking. At groaning tables, the men gorge and Jack eats himself to death. Then Begbick presides over the Mandalay Brothel and the men queue for Jenny and the other prostitutes. Jim bets all his money on Joe in a boxing match between Joe and Trinity Moses, but Joe is killed. To drown his sorrows, Jim buys rounds of drinks for everyone, but their drunken games damage Begbick's furnishings. When Begbick demands payment for that and for the drinks, Jim turns to Jenny for a loan; she throws his own selfish philosophy back at him and refuses. Jim is led off to prison.
ACT III
Jim dreads the dawning of the next day. In the court room Moses sells tickets for the forthcoming trials. He is prosecutor, Fatty the defence lawyer and Begbick the judge. The first defendant, Toby Higgins, is acquitted of murder, having handed over money to the court. Jim is summoned and led in by Billy, from whom he tries to borrow money so that he too can bribe his way off the charges. Billy refuses. Jim is accused of violating Jenny, being an accessory to the murder of Joe, inciting the crowd on the night of the hurricane by singing illegal songs, and failing to pay Begbick for drinks and criminal damage. This last charge is deemed the most serious and he is sentenced to death. As Jim is led off to await execution, everyone dreams of another city, sunny Benares, only to learn that it has been destroyed by an earthquake. Now, they wonder, where else might they go? Jim says goodbye to Jenny, who declares herself his widow. He tells the people of Mahagonny to live life to the full as there is no afterlife. They describe a visit by God to Mahagonny; God cannot condemn the inhabitants to Hell as they are there already. Jim is executed. While the city burns, there are demonstrations and conflicts between groups of protesters. Jim's possessions are paraded like sacred relics as the various processions merge, the marchers proclaiming 'Nothing will help him or us or you now!'.
©Alison Leighton
Last on