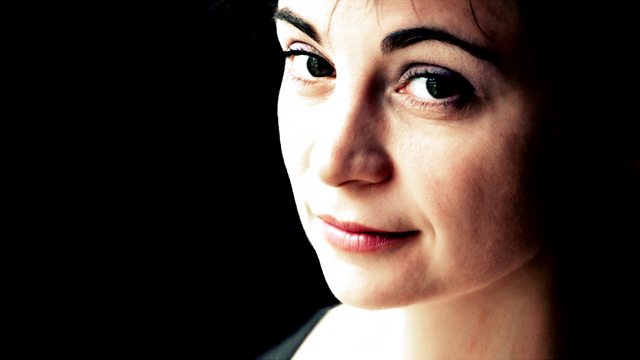 19/09/2008
World on 3 moves to a new regular Friday night slot on Radio 3. The three presenters - Charlie Gillett, Lopa Kothari and Mary Ann Kennedy - will continue to bring their particular expertise and tastes to the programme, presenting new CDs and classic recordings of world music, folk, blues, gospel and much much more.
Together with studio sessions and concert recordings, and now with the occasional recording contributed by listeners, World on 3 promises some of the most enticing sounds from across the globe.
Mary Ann Kennedy starts off the new slot, with a programme including music gathered fresh from last month's Vally of the Moon music camp, a gathering in the California Redwoods of leading folk and trad musicians, including Bruce Molsky, Martin Hayes and Natalie Haas. Also, music gfrom Southern Morocco by Oudaden, one of the country's most traditional and popular groups, but so far rarely heard outside Morocco.
Terakaft: Akh Issudar (Kedou Ag Ossad, Terakaft) (4:35)
Album: Akh Issudar
Tapsit/IRL IRL039, track 1
http://www.myspace.com/terakaft
Oudaden: Arnabadi Yadi (Oudaden) (7:43)
Album: Oudaden
Productin Disco 8/01, track 7
http://www.myspace.com/oudaden
Brittany Haas: June Apple (Trad.) (2:53)
Album: Brittany Haas
Ook Records CD001, track 7
http://www.brittanyhaas.com
Alasdair Fraser and Natalie Haas: Alien Ceilidh (Galen Fraser) (3:57)
Album: In the Moment
Culburnie CUL122, track 3
http://www.alasdairfraser.com
http://www.nataliehaas.com
http;//www.greentrax.com
Imane Homsy: Taqassim Ajam Usharyan (Improvisations in the Ajam Ushayran mode) (2:37)
Album: Seigneur Kanoun
Institute du Monde Arabe 321 085, track 1
Andrea Parodi & Elena Ledda: Stabat (Francesco Sotgiu, Andrea Parodi) (4:53)
Album: Rosa Resolza
Sard SARDCD0004, track 3
http://www.sardmusic.com
Kal: Boro Boro (D. Ristic) (3:25)
Album: Princes Amongst Men – Journeys with Gypsy Musicians
Asphalt Tango CD-ATR 1608, track 6
http://www.asphalt-tango.de
Women from Gandajika: Kalekele Welu (Traditional Tuhuri) (2:55)
Album: Kanyok and Luba – Southern Belgian Congo 1952 & 1957
Sharp Wood Productions SWP 011/HT05, track 15
http://www.swp-records.com
Mamadou Diabate: Bi Allah La Ke (Trad. arr Mamadou Diabate) (7:32)
Album: Douga Mansa
World Village 468082, track 2
http://www.mamadoukora.com
Femi Kuti: Oyimbo (3:49)
Album: Day by Day
Wrasse Records WRASSE228, track 1
http://www.myspace.com/femikuti
MC Junior, MC Leonardo, Bateria de Rocinha: Rap das Armas (Samba School) (3:37)
Album: Tropa de Elite (Elite Squad Soundtrack)
Milan 399 236-2, track 1
http://www.milanrecords.com
Nitin Sawhney featuring Natty: Days of Fire (Nitin Sawney) (3:14)
Album: London Undersound
Cooking Vinyl/Positiv-iD CD001, track 1
Release date: 13 October 2008
The Simon Hopper Band: The Ballad of the Suffolk Five (Simon Hopper) (3:18)
Album: The Less Blessed
CSM CD03, track 2
http://www.simonhopper.co.uk
http://www.myspace.com/thesimonhopperband
Ben Sollee: Panning for Gold (Ben Sollee) (4:21)
Album: Learning to Bend
Sona Blast! Records SB1015, track 8
http://www.bensollee.com
Laura Risk: Skye Air, Another St Kilda Song and Dance, Am Botul dubh 's an t-slighe chreachann (Trad.) (3:22)
Album: 2000 Miles
Laura Risk RISK0401, track 9
http://www.laurarisk.com
Omara Portuondo: Adiós Felicidad (Ela O'Farrill) (3:13)
Album: Gracias
Montuno MON010, track 2
http://www.myspace.com/omaraportuondoworldcircuit
http://www.montuno.com
Laura Cantrell: The Whisky Makes You Sweeter (Amy Allison) (5:07)
Album: Not the Tremblin' Kind
Spit & Polish SPITCD001, track 7
http://www.lauracantrell.com
Cleoma Breaux Falcon: Hand Me Down My Walking Cane (Anon) (3:03)
Album: Cajun Early Recordings – Important Swamp Hits Remastered
JSP JSPCD 7726, track 17
Huun Huur Tu featuring Sainkho Namchylak: Mezegey (4:23)
Album: Mother Earth, Father Sky!
JARO 4281-2, track 6
http://www.huunhuurtu.com
Suarasama: Syang Hang Guru (Irwansyah Harahap) (7:15)
Album: Fajar di Atas Awan
Drag City DC364CD, track 2
Oudaden: Elqest Amahadar (Oudaden) (8:40)
Album: Oudaden
Productin Disco 8/01, track 8
http://www.myspace.com/oudaden
Last on
BBC Introducing on World on 3