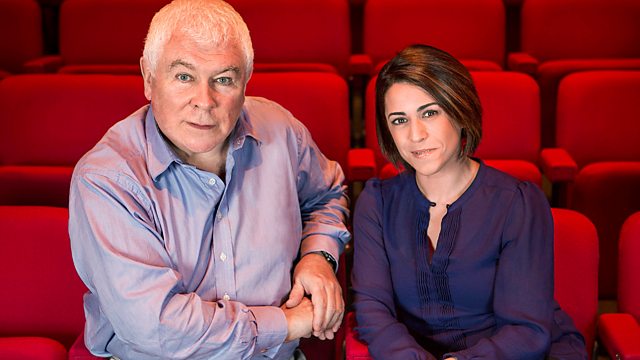 17/09/2008
Presented by Sean Rafferty.
Artistic director and oboist Nicholas Daniel talks about the 2008 Leicester International Music Festival, and performs in the studio along with pianists Katya Apekisheva and Charles Owen.
Also tenor Gregory Kunde and pianist Simon Lepper perform music from their forthcoming Rosenblatt Recital at London's St John's Smith Square.
17:02
ADAMS
Short Ride in a Fast Machine
City of Birmingham Symphony Orchestra
Simon Rattle (conductor)
EMI 215014-2
CD 1 Track 6
4'12
17:08
LULLY
Isis (Scene du froid)
Sophie Daneman (soprano)
Paul Agnew (tenor)
Les Arts Florissants
William Christie (conductor)
ERATO 0927-44655-2
Track 10
4'02
17:13
LIVE
STRAVINSKY
Suite Italienne (Gavotte & Variations)
Nicholas Daniel (oboe)
Katya Apekisheva (piano)
3'27
17:23
LIVE
FAURE
Nocturne No.3 in A flat major Op.3, No.3
Charles Owen (piano)
4'50
17:35
LIVE
POULENC
Sonata for piano duet
Charles Owen & Katya Apekisheva (piano)
5'44
17:42
MARTIN Y SOLER (arr. Wendt)
Una Cosa rara (Act 1, selection)
Moonwinds
Joan Enric Lluna (conductor)
HARMONIA MUNDI HMC902010
Tracks 1–5
11'55
17:55
PURCELL
Fantazia 5 in B flat major in 4 parts (Z.736)
Fretwork
VIRGIN 3951642
CD 5 Track 2
4'05
18:03
J.S. BACH
Cantata 137 (opening chorus 'Lobe den Herren…')
Bach Collegium Japan
Masaaki Suzuki (director)
BIS SACD-1671
Track 1
3'04
18:07
V. HOROWITZ (arr. Carpenter)
Variations on a theme from Bizet's "Carmen"
Cameron Carpenter (organ of Trinity Church, New York City)
TELARC CD-80711
Track 10
4'36
18:12
LIVE
ROSSINI
Tirana alla Spagnola (Rossinizzata)
Gregory Kunde (tenor)
Simon Lepper (piano)
3'58
18:22
LIVE
BEACH
Ah Love, But a Day; I Send My Heart up to Thee
Gregory Kunde (tenor)
Simon Lepper (piano)
5'55
18:33
BERLIOZ
Benvenuto Cellini (Act 1: Une heure encore)
Gregory Kunde (tenor)
London Symphony Orchestra
Sir Colin Davis (conductor)
LSO LIVE LSO0623
CD 1 Track 11
5'57
18:41
DRING
Festival Scherzo
Martin Roscoe (piano)
Guildhall Strings
Robert Salter (director)
HYPERION CDA67316
Track 17
4'40
18:46
HANDEL
Concerto grosso in B flat major Op.6, No.7
Arte dei Suonatori
Martin Gester (conductor)
BIS SACD-1705/06
CD 2 Tracks 6–10
13'35
Last on
Matthew Kaner is the new 'Composer in 3'