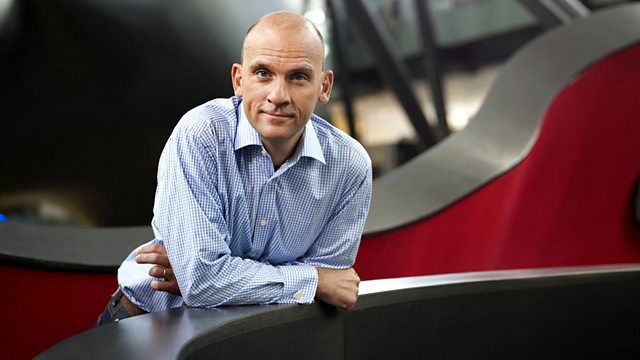 David Murray's Black Saint Quartet at the Edinburgh Jazz Festival
Jez Nelson presents David Murray's Black Saint Quartet in a concert given at the Edinburgh Jazz Festival in July. The iconic tenor saxophonist carried the avant-garde torch throughout the 70s and 80's to become one of the main exponents of the tradition. This group is in the classic quartet format with which Murray originally made his name and features Lafayette Gilchrist on piano, one-time Art Ensemble of Chicago bassist Jaribu Shahid, and Hamid Drake on drums.
Although influenced by the free-jazz of Archie Shepp and Albert Ayler, Murray quickly found his own voice; more akin to lyrical saxophonists such as Ben Webster or Coleman Hawkins. As well as being a founding member of The World Saxophone Quartet, alongside Arthur Blythe, Oliver Lake and Hamiett Bluiett, Murray has undertaken a variety of projects over the years, encompassing everything from world-music, to the psychedelic rock sounds of the Grateful Dead. His most recent album Sacred Ground features vocals by Cassandra Wilson.
PLAYLIST:
SIGNATURE TUNE
Artist Russell Gunn (Russell Gunn – trumpet, Gregory Tardy & Bruce Williams – reeds, Andre Heyward – trombone, Chieli Minucci – guitar, James Hurt – keyboards, Rodney Jordan – bass, Woody Williams – drums, Khalil Kwame Bell – percussion, DJ Apollo - turntables)
Track Title Seventy Four Miles Away
Composer Joe Zawinul
Album Title Ethnomusicology Volume 1
INTRODUCTION AND EXTRACT FROM DAVID MURRAY'S BLACK SAINT QUARTET RECORDED AT THE EDINBURGH JAZZ FESTIVAL
Artist David Murray Black Saint Quartet (David Murray – tenor saxophone, Lafayette Gilchrist – piano, Jaribu Shahid – bass, Hamid Drake – drums)
Track Title Kiama for Obama
Composer David Murray
CD ROUND UP
Artist Elephant9 (Ståle Storløkken – keyboards, Nikolai Hængsle Eilertsen – bass, Torstein Lofthus - drums)
Track Title Directions
Composer Joe Zawinul
Album Title Dodovoodoo
Label Rune Grammofon
LINK:
www.myspace.com/elephant9theband
Artist Curios (Tom Cawley – piano, Sam Burgess – bass, Joshua Blackmore – drums)
Title Bradford
Composer Tom Cawley
Album Title Closer
Label Impure Music
LINKS:
www.myspace.com/curiosband
www.impuremusic.com
DAVID MURRAY'S BLACK SAINT QUARTET RECORDED AT THE EDINBURGH JAZZ FESTIVAL 29TH JULY 2008
LINE UP:
David Murray – tenor saxophone
Lafayette Gilchrist – piano
Jaribu Shahid – bass
Hamid Drake – drums
SET LIST:
Kiama for Obama (David Murray)
Banished (David Murray)
Murray's Steps (David Murray)
Dreams (AKA Pierce City) (David Murray)
LINK:
www.myspace.com/davidmurraymusic
POLITICS IN JAZZ SEGMENT – FEATURING DAVID MURRAY AND WADADA LEO SMITH
MUSIC FEATURED:
Artist Art Ensemble of Chicago (Lester Bowie – trumpet, Roscoe Mitchell – saxophones, percussion, flute, Joseph Jarman – saxophones, bassoon, oboe, Malachi Favors – bass, drum, banjo)
Track Title Reese
Composer Roscoe Mitchell
Album Title Reese and the Smooth Ones
Label Sun Spots/ BYG Records
Artist Art Ensemble of Chicago (Lester Bowie – trumpet, Roscoe Mitchell – saxophones, percussion, flute, Joseph Jarman – saxophones, bassoon, oboe, Malachi Favors – bass, Don Moye – drums)
Track Title People of Sorrow (part II)
Composer Bowie, Jarman, Favors, Mitchell
Album Title The Pathe Sessions: Americans Swinging in Paris
Label EMI
Artist Art Ensemble of Chicago (Lester Bowie – trumpet, Roscoe Mitchell – saxophones, percussion, flute, Joseph Jarman – saxophones, bassoon, oboe, Malachi Favors – bass, Don Moye – drums)
Track Title Variations Sur UN Theme de Monteverdi
Composer Bowie, Jarman, Favors, Mitchell
Label EMI
Album Title The Pathe Sessions: Americans Swinging in Paris
JEZ NELSON TALKS TO KEVIN LE'GENDRE AND VIJAY IYER ABOUT POLITICS IN JAZZ
CD TRACK:
Artist Vijay Iyer
Track Title Macaca Please
Composer Vijay Iyer
Album Title Tragicomic
Label Sunnyside Records
LINKS:
www.myspace.com/vijayiyer
www.vijay-iyer.com
EXCLUSIVE SOLO PERFORMANCE BY WADADA LEO SMITH RECORDED AT ABBEY ROAD STUDIOS, 8TH AUGUST 2008
LINE UP:
Wadada Leo Smith – trumpet
SET LIST:
Orange Trumpet (Wadada Leo Smith)
Green Trumpet (Wadada Leo Smith)
LINKS:
http://music.calarts.edu/~wls/
www.myspace.com/wadadaleosmith
RECOMMENDED FURTHER LISTENING:
Artist – David Murray Black Saint Quartet Album – Sacred Ground (ft. Cassandra Wilson) Label – Justin Time (2007)
Artist – Wadada Leo Smith
Album – The Kabell Years (1971 -1979)
Label – Tzadik (2004)
Artist – Wadada Leo Smith
Album – Red Sulphur Sky
Label – Tzadik (2001)
Last on