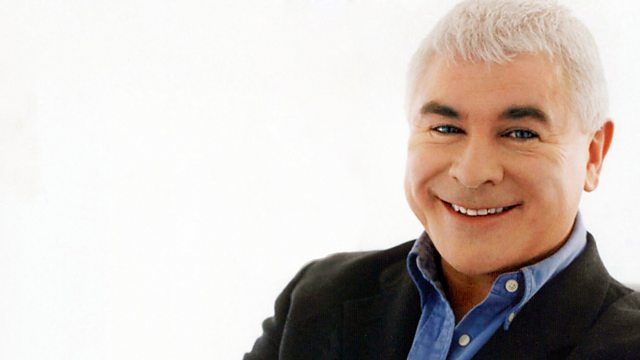 03/09/2008
Sean Rafferty presents a selection of music and guests from the arts world. There's live music from The Opera Group, ahead of their new production of Varjak Paw, written by composer Julian Philips and librettist Kit Hesketh-Harvey who are guests on the show.
Also a preview of the 2008 Great Northern Brass Arts Festival, with Festival Director Philip Biggs, and the Principal Conductor of the Black Dyke Band, Nicholas Childs.
Plus Egyptian percussionist Hossam Ramzy on his performance at the Southbank Centre, as part of the London African Music Festival.
17:03'03 RAMEAU
Overture (from Le Temple de la gloire)
Les Talens Lyriques/Christophe Rousset
L'Oiseau Lyre tr. 12 dur: 3'51
17:07'48 VIERNE
Carillon de Westminster (Op.54, No. 3)
Robert Sharpe (organ of Truro Cathedral)
Regent REGCD263 CD 2, tr. 13 dur: 6'59
17:20:24 Hossam RAMZY
The Magic Carpet from Cairo to Baghdad Hossam Ramzy (percussion)
ARC Music EUCD 2158 tr. 11 4'00
17:30:59 Mohammed FAUZI
Habibi We Enay
Hossam Ramzy & his Egyptian Orchestra
BBC Recording, Womad, Wiltshire July '08 5'20*
17:37'20 BACH
Double Concerto in D minor (BWV.1043)
Nigel Kennedy & Daniel Stabrawa (violins)
Berlin Philharmonic Orchestra
EMI 5 57091 2 trs. 10 – 12 dur: 14'00
17:53'45 BRAHMS
Sonata for piano no. 2 in F sharp minor (Op.2)
1st Mvt: Allegro non tanto ma energico
Libor Novacek (piano)
Landor Records LAN285 tr. 1 dur: 6'04*
18:03'36 ARNOLD
The Padstow Lifeboat (Op.94)
Grimethorpe Colliery UK Coal Band/Malcolm Arnold
RCA 74321 88392 2 CD 1, tr. 21 dur: 4'40
18:10:22 Varjak Paw (3 exceprts)
Akiya Henry (Varjak Paw)
Lisa Crosato (Holly)
Simon Wilding (Cludge)
Jeremy Bines (piano)
LIVE dur: 10'00
18:33.24 HANDEL
Overture from Music for the Royal Fireworks
London Classical Players/Roger Norrington
Virgin 5 45265 2 tr. 19 dur: 7'48
18:44'02 STRAUSS
Im Abendrot (from Four Last Songs)
Renée Fleming (soprano)
Munich Philharmonic Orchestra/Christian Thielemann
Decca 478 0647 tr. 4 dur: 7'40
18:52.29 BERLIOZ (arr. Brand)
Overture: Le Corsair
Fodens Courtois Band/Nicholas Childs
Polyphonic QPRL 094D tr. 2* dur: 7'34*
19:05:43 Derek BOURGEOUS
Serenade
The Black Dyke Band/Nicholas Childs
Doyen DOYCD121 tr. 7 dur: 2'44
19:14:33 Edward GREGSON
Variations on Laudate Dominum (conclusion)
The Black Dyke Band/Nicholas Childs
Doyen DOYCD242 tr. 9* dur: 5'02*
19:20'59 MOZART
Sonata G major for Keyboard & Violin (K.27)
Gary Cooper (fortepiano) & Rachel Podger (violin)
Channel Classics CCS SA 26208 trs. 7 & 8 dur: 8'40
Last on
Discover more music with the In Tune Mixtape