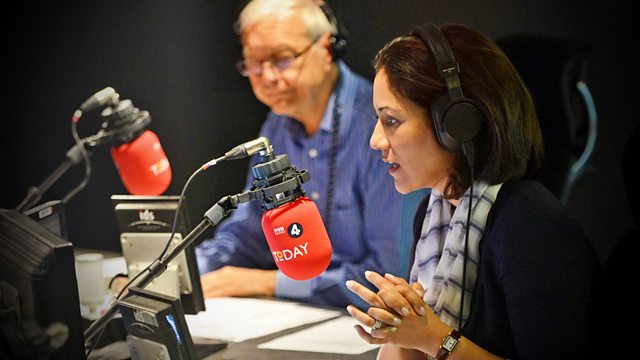 30/08/2008
Presented by Sarah Montague and Evan Davis.
Including:
Kim Ghattas reports on John McCain's surprising choice of Alaska governor Sarah Palin as running mate.
Caroline Wyatt looks at RAF operations in Afghanistan with Air Chief Marshall Sir Glenn Torpy.
Headmaster Andrew Halls explains why he is sceptical about league tables and GCSE results.
Torin Douglas celebrates the career of the former head of BBC comedy Geoffrey Perkins, who died yesterday.
Sanjoy Majumder reports from the Indian state of Bihar, where millions have fled their homes after flooding.
Deputy Leader of Liverpool Council Flo Clucas explains why the government's shared equity scheme is viable.
Jim Naughtie reflects on the character of an absorbing US election.
Thought for the Day with Rev Roy Jenkins, a Baptist Minister in Cardiff.
Jon Manel investigates an allegedly racially motivated attack on a 16-year-old boy.
Chancellor Alistair Darling has said that the economy is facing the worst downturn in 60 years. With Peter Kilfoyle MP and Stephen Bell of the GLC.
Accord General Secretary Dr Mary Bousted and former Catholic Herald editor Cristina Odone discuss alleged discrimination in faith schools.
Tarique Ghaffur launched a legal action this week against Ian Blair and the Met, accusing the force of racial discrimination. Ghaffur's solicitor Dr Shahrokh Mireskandari and Ken Livingstone discuss the case.
Former Foreign Secretary David Owen discusses Russia's attitude to the West.
Authors Toby Young and Kathy Lette discuss the publisher Penguin's dating website for bookworms.
Art critic Brian Sewell and former Sun editor Kelvin Mackenzie debate the merits of art and its cost.
Last on