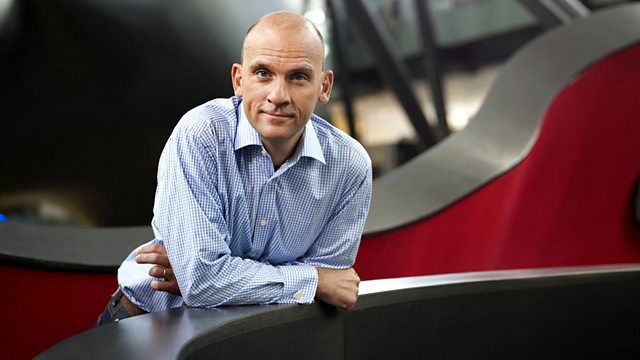 Double Header: Tyft/Rudresh Mahanthappa Quartet
Jez Nelson raids the archives to present the finest concerts of the past year, including sets from international jazz-metal power trio Tyft and New Yorker Rudresh Mahanthappa's quartet, both given at The Wardrobe in Leeds.
Led by Icelandic guitarist Hilmar Jensson, Tyft also features New York reeds player Andrew D'Angelo and drummer Jim Black. The performance includes material from the band's critically praised album Meg Nem Sa as well as earlier material composed by Jensson.
The Rudresh Mahanthappa Quartet is the American saxophonist's flagship ensemble, made up of Vijay Iyer on piano, Francois Moutin on bass, and Dan Weiss on drums. Recorded last October, the gig includes music that draws heavily on elements of both Mahanthappa and Iyer's Indian ancestry.
Presenter: Jez Nelson
Producer: Robert Abel
TYFT RECORDED LIVE AT THE WARDROBE IN LEEDS, 31ST OCTOBER 2007
LINE UP:
Hilmar Jensson – guitar
Andrew D'Angelo – tenor saxophone and electronics
Jim Black – drums and electronics
SET-LIST:
Led Tyftelin (Jensson)
JEZ NELSON INTERVIEWS HILMAR JENSSON
SET-LIST CONT:
Death of a Penguin (Jensson)
Meg Nem Sa (D'Angelo)
LINKS:
www.hilmarjensson.com
www.myspace.com/hilmarjensson
www.andrewdangelo.com
JEZ NELSON INTERVIEWS RUDRESH MAHANTHAPPA
THE RUDRESH MAHANTHAPPA QUARTET RECORDED LIVE AT THE WARDROBE IN LEEDS, 24th OCTOBER 2007
LINE UP:
Rudresh Mahanthappa – alto sax
Vijay Iyer – piano
François Moutin – bass
Dan Weiss – drums
SET-LIST:
Front Burner – (Mahanthappa)
D (Dee – Dee) – (Mahanthappa)
Play It Again Sam – (Mahanthappa)
Wait It Though – (Mahanthappa)
www.rudreshm.com
www.myspace.com/rudreshm
RECOMMENDED FURTHER LISTENING:
Artist – Tyft
Album – Meg Nem Sa
Label – Skirl Records (2006)
Artist – Rudresh Mahanthappa
Album – Raw Materials
Label – Savoy (2006)
Artist – Rudresh Mahanthappa
Album – Codebook
Label – Pi Recordings (2006)
Last on