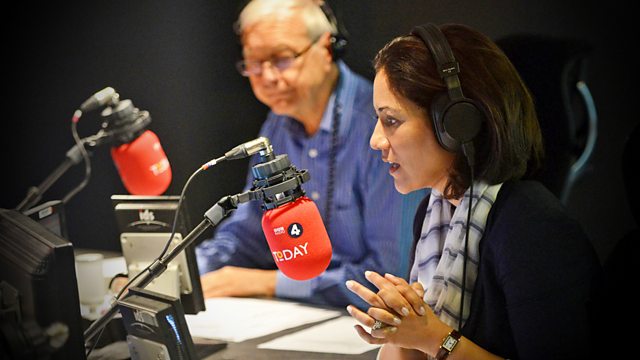 25/08/2008
Presented by John Humphrys and Sarah Montague.
Including:
James Naughtie reports from the Democratic National Convention in Denver.
Lesley Curwen interviews Charles Bean, Deputy Governor of the Bank of England.
Tim Lamb, Chief Executive of the Central Council of Physical Recreation, claims that clubs are short of funds and are having to close the door on sporting hopefuls.
Jill Kirby, director of the Centre for Policy Studies, and Conservative MP Michael Fallon discuss how the Tories should adapt to the politics of a recession.
Andy Swiss in Beijing and Jane Peel in London discuss how the London Olympics in 2012 will differ from Beijing 2008.
Professor Rod Morgan and Justice Minister Lord Hunt debate the fairness of the judicial system.
Dr Derrick Campbell, chairman of the National Independent Advisory Group on Criminal Use of Firearms, and Minister for Crime and Policing Lord McNulty discuss what can be done to tackle gun and knife crime.
Sir Peter Burt, former governor and chief executive of the Bank of Scotland, discusses the role national bank officials can play in bringing stability back to the UK markets.
Mike Thomson reports from Sudan on Africa's longest running civil war.
Journalist Kevin Garside and comedian Arthur Smith discuss the Beijing Olympics closing ceremony.
Arianna Huffington, founder of political website the Huffington Post, says that Barack Obama would not be the Democrat nominee without the web. Joe Klein of Time magazine discusses the excitement surrounding the election.
Last on