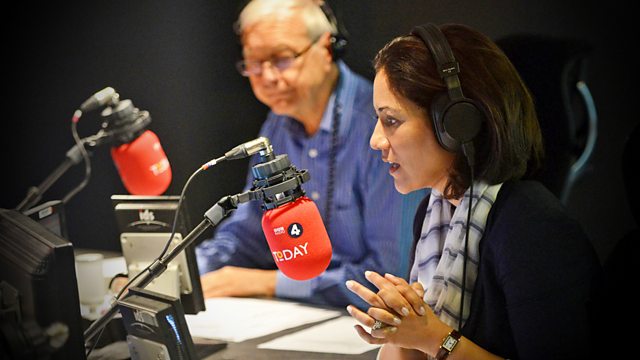 27/08/2008
Presented by John Humphrys and Edward Stourton.
Including:
Bridget Kendall reports on Russia's recognition of two breakaway states from Georgia.
Keith Doyle reports on the devolution of policing and justice in Northern Ireland.
Andrew Dillon of NICE discusses when the drug Lucentis is likely to be available to patients in England.
Norman Smith examines the effectiveness of windfall taxes.
James Naughtie reports on Hillary Clinton's speech at the Democratic convention.
Thought for the Day with Reverend Dr Giles Fraser, vicar of Putney.
Mediator Kirk Dawes and a mother of a murder victim discuss what can be done to diffuse tension between gangs.
Eddie Stride, who runs a youth centre, and musician Tricky debate whether there is a link between poetry and rap.
Danny Shaw reports on the Home Office initiative of Accredited Persons.
Paul Watters, Head of Road Policy of the AA, discusses why we behave so differently behind the wheel of a car.
Crispin Thorold reports from an area of Baghdad that has seen some of the worst violence in recent years.
Why are the Russians so concerned by the possible expansion of NATO? Masha Lipman of the Moscow centre of the Carnegie Endowment and David Clark, chair of the Russia Foundation, discuss the breakaway Georgian regions of South Ossetia and Abkhazia.
Last on