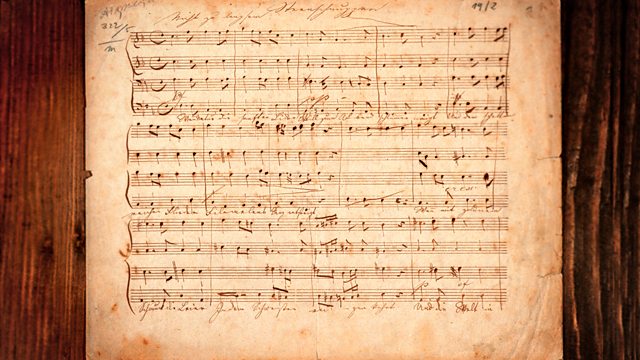 The Ring Cycle
Most of us have opinions about marriage. Gandhi claimed that he first learned the concepts of non-violence from his and Katharine Hepburn maintained that marriage was the way to sacrifice the admiration of many men for the criticism of just one.
You don't have to have been a wife or a husband of course. We've all been children and we've seen our parents or other adults experimenting day to day with the notion that two individual squares can and should be turned into a single, smooth, gilded circle of domestic bliss.
This edition of Words and Music traces that impulse from the spark of desire to its flaring in the conjugal hearth; from its collapse into ash and embers to its occasional, miraculous re-kindling.
So forget Das Rheingold and think instead about the double dream of matrimony. You'll be in good company, the actors Jane Lapotaire and Ralf Little will be lending their voices to Tolstoy, Saul Bellow, Elizabeth Bishop and Anne Carson amongst others to conjure up this vision and the music will be provided by the Words and Music jukebox – a machine that can produce Mozart's sounds and sweet airs, the slinkiness of Billie Holiday, Anouar Brahem's feline oud playing and the cybernetic funk of Grace Jones. What else would you expect from an attempt to describe "the triumph of hope over experience"?
Zahid Warley – Producer.
Philharmonia Orchestra and chorus – Herbert von Karajan
Overture from Cosi van tutte
Mozart
EMI CMS5670642
CD 1 Track 1
Anne Carson
Tango VI
From The Beauty of the Husband
Reader: Ralf Little
Leopoldo Federico y Orquesta
Sueno de Tango
Leopoldo Federico and Nicolas Ledesma
Café de Los Maestros
WRASS 226
Track on CD: CD2 Track 1
Jane Austen
Opening chapter of Pride and Prejudice
Reader: Jane Lapotaire
Rudolf Barshai and Bournemouth Symphony Orchestra
The Waters in Winter -Second Ritual Dance from The Midsummer Marriage
Tippett
Ritual Dances from The Midsummer Marriage
EMI 5865872
Track 16
Andre Breton
Free Union
New Faber Book of 20th Century French Poems
Translator: Stephen Romer
Reader: Ralf Little
Abdullah Ibrahim
The Wedding
Water from an Ancient Well
TIP 8888122
Track 6
Carol Ann Duffy
White Writing
Feminine Gospels
Reader: Jane Lapotaire
The Hilliard Ensemble
De souspirant cuer
Guillaume de Machaut
Motets
ECM 4724022
Track 1
David Harsent
We are naked
Marriage…section III
Reader: Ralf Little
Anouar Brahem
Conte de l'incroyable amour
Anouar Brahem
ECM 1457 511959-2
Track 5
Elizabeth Bishop
It's marvellous
The New Faber Book of Love Poems
Reader: Jane Lapotaire
Kocani Orkestar
Siki, Siki Baba
Nestor Cok Rakia
From Alone At My Wedding
CRAW 25 EFA 80271 3075192 WAG 330
Track 1
David Harsent
Going In
Marriage section XII
Reader: Ralf Little
Billie Holiday
Body and Soul
Heyman – Sour-Eyton - Green
Billie Holiday 1939-40
CLASSICS 601
Track 16
Douglas Dunn
Thirteen Steps and the Thirteenth of March
Elegies
Reader: Ralf Little
Anne Sofie von Otter and Monteverdi Choir – John Eliot Gardiner
J'ai perdu mon Eurydice
Gluck
Orphee et Eurydice
EMI 7243 5 568872 9
CD 2, Track 14
Sylvia Plath
Morning Song
Penguin's Poems for Life
Reader: Jane Lapotaire
Gabrieli Quartet
String Quartet Number 1
Janacek and Smetana Quartets
DECCA 430 295 -2
Track 1
Leo Tolstoy
Anna Karenina
Reader: Ralf Little
Grace Jones
Private Life
Chrissie Hynde
Grace Jones Private Life: Compass Point Years
ISLAND 5245012
Tracks 1 and 2
Katherine Mansfield
Marriage a la Mode
The Garden Party
Reader: Jane Lapotaire
Philharmonisches Staatsorchester Hamburg cond. Gerd Albrecht
Prelude to Act 3 Der Konig Kandaules
Zemlinsky
Symphonische Gesange. Drei Balletstucke. Der Konig Kandaules
CAPRICCIO 10448
Track 11
Saul Bellow
Opening Chapter of Herzog
Reader: Jane Lapotaire
Helen Jahren
Six Metamorphoses after Ovid - Narcissus
Benjamin Britten
Oboe Music by Britten , Dorati and Krenek
BIS CD737
Track 14
Joseph Brodsky
Six Years Later
A Part of Speech
Translator: Richard Wilbur
Reader: Jane Lapotaire
Kronos Quartet
Lyric Suite – Adagio Appassionato
Alban Berg
Lyric Suite
NONESUCH 7559796962
Track 4
Margaret Atwood
Extract from The Penelopiad
Reader: Ralf Little
Jeanne Moreau
Le Tourbillon
Georges Delerue to words by Bassiak
La Nouvelle Vague
MILAN 887825
Track 11
Andrew Sean Greer
The Story of a Marriage
Reader: Jane Lapotaire
Philharmonia Orchestra and Chorus cond. Karl Bohm
Fortunato l'uom che prende from Cosi fan tutte
Mozart
Cosi fan tutte
EMI CDM 769332 2
Track 14
Last on