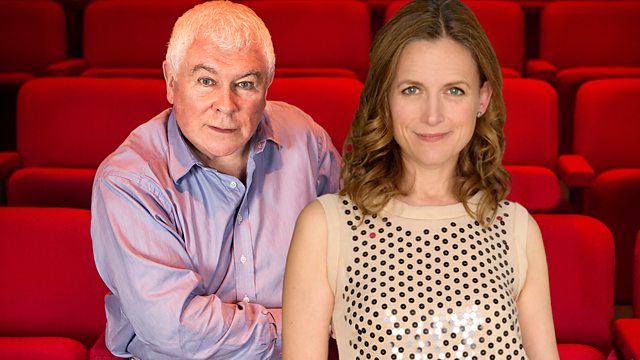 21/08/2008
Petroc Trelawny presents a selection of music and guests from the music world. Conductor William Christie talks about his concert of French airs with Les Arts Florissants this Friday; flautist Sharon Bezaly discusses her latest Baroque CD release, and violinist Min-Jin Kym plays live in the studio with pianist Ian Brown ahead of their performance at the North Norfolk Music Festival.
Playlist:
Copland/Danzon cubano
Dallas Symphony Orchestra/Eduardo Mata
EMI 3 81498 2 CD 1 Track 1 07.58
Handel/Recit + Ombra mai fu from Xerxes
Anne Sofie Von Otter (Xerxes)/Les Arts Florissants/William Christie
Quick out at the end of Track 3 – next music starts 1" after 03.19
Virgin 5 45711 2 CD 1 Tracks 2-3 04.00
Rameau/Au doux penchant qui les entraine from Hippolyte et Aricie, Prologue Sc.2
Gaelle Mechaly (L'amour - sop)/Eiran James (Diane - mezzo)
Les Arts Florissants/William Christie
Virgin 15517 2 CD 1 Track 5 04.13
Rameau/end of Les Fetes d'Hebé
Jean-Paul Fouchécourt (Mercury – high tenor)/Les Arts Florissants/William Christie
Virgin 21064 2 CD 2 Tracks 39-42 09.42
Puccini/Intermezzo from Suor Angelica
BPO/Karajan
CFP 21871 2 Track 6 04.53
Sondheim/Can That Boy Foxtrot! (cut from Follies)
Millicent Martin + Julia McKenzie (vocals)/Tim Higgs + Stuart Pedlar (piano)
RCA GD81851 CD 1 Track 6 02.36
Tchaikovsky/Danse des Mirlitons + Valse des fleurs from The Nutcracker
Royal Liverpool Philharmonic Orchestra/Vasily Petrenko
Avie 2139 Tracks 19-20 09.40
Mahler/Ich bin der Welt abhanden gekommen from 5 Rückert-Lieder
Dame Janet Baker(mezzo)/New Philharmonia Orchestra/Sir John Barbirolli
EMI 2 08087 CD 3 Track 10 06.41
Hugo Alven/Little Suite for Solo Flute
Sharon Bezaly (flute)
LIVE 03.00
Kalevi Aho/Presto from Solo III
Sharon Bezaly (flute)
LIVE 04.00
JS Bach/Flute Sonata in Eb BWV 1031
Sharon Bezaly (flute)/Terence Charlston (harpsichord)/Charles Medlam (bass viol)
BIS 1689 Tracks 19-21 10.19
Sibelius/Festivo (Quasi Bolero)
Finnish Radio Symphony Orchestra/Jukka-Pekka Saraste
RCA 60157 Track 7 07.46
Duparc/L'invitation au voyage
Dame Kiri Te Kanawa (soprano)
Orchestre Symphonique de l'Opéra National de Bruxelles/Sir John Pritchard
EMI 5 85111 2 Disc 1 Track 15 04.42
Brahms Hungarian Dance no 2 in A minor
Min-Jin Kym (violin)/Ian Brown (piano)
LIVE 03.00???
Faure, Sonata A major 1st mvt Allegro Molto
Min-Jin Kym (violin)/Ian Brown (piano)
LIVE 08.00
Beethoven/last mvt Rondo: Allegro from Violin Concerto in D Op 61
Min-Jin Kym (violin)/Philharmonia Orchestra/Sir Andrew Davis
Sony 144422 Track 3 10.19
Richard Strauss/Lieder ~ Morgan
Edita Gruberova, Friederich Haider (piano)
Teldec 3984-26795-2 Track 13 03.25
Last on