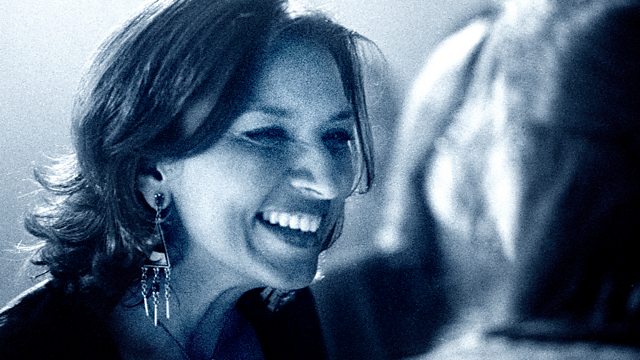 Lopa Kothari - WOMAD 2008
Lopa Kothari presents a mix of music from around the world, and also introduces a recording of bassist Jah Wobble's new Chinese Dub project, made on the Radio 3 stage at the 2008 WOMAD festival.
Radio 3 continues its coverage of the WOMAD Festival 2008, which was held in Charlton Park near Malmesbury, Wiltshire, at the end of July. This annual festival of World Music brings acts from every part of the globe together, to perform on multiple stages. Some acts also take part in workshops and even cookery sessions.
One of the most eagerly anticipated performances of the weekend was the appearance on Radio 3's own stage of the new project from bass player Jah Wobble. Jah Wobble, born John Wardle, originally rose to prominence as the bass player in Public Image Limited, the band formed by John Lydon on his departure from the Sex Pistols.
After a wilderness period in the 1980s, when he worked for London Underground, Jah Wobble re-emerged as a musical pioneer in the 90s, incorporating many different styles of music from around the world into his distinctive bass-heavy sound.
This latest project, Jah Wobble Chinese Dub, was inspired initially by his family: his wife is Chinese, and is the guzheng (zither) player in the group. The performance brings in Chinese musicians and dancers alongside Jah Wobble stalwarts like drummer Mark Sanders and purveyor of exotic wind instruments Clive Bell.
This programme will contain other recordings from WOMAD 2008.
Orchestra Baobab: Cabral (6:12)
Recorded at WOMAD 2008, Saturday 26 July
http://womad.org
http://www.bbc.co.uk/radio3/worldmusic/womad2008
Mec Yek: Lole Kamashli (Mec Yec) (2:12)
Album: Antikrisis
Choux de Bruxelles CHOU0802, track 2
http://www.myspace.com/mecyec
Ska Cubano: No me Desesperes (Don't Drive me Crazy) (Carlos Marteles) (3:30)
Album ¡Ay Carumba!
Cumbancha CMB-CD-1, track 5
http://www.skacubano.com
http://www.cumbancha.com
Sir Victor Uwaifo: Kirikisi (Victor Uwaifo) (3:50)
Album: Guitar Boy Superstar 1970–76
Soundway Records SNDWCD012, track 1
http://www.soundwayrecords.com
Fela-Ransome Kuti: Lai Se (Fela Kuti) (4:06)
Album: Afrobeat Nirvana
Vampisoul VAMPICD 102, rck 2
http://www.vampisoul.com
Jah Wobble and Chinese Dub: L1 Dub () (4:08)
Jah Wobble and Chinese Dub: Waving at the Gates Goodbye () (5:10)
Recorded at WOMAD 2008, Saturday 26 July
http://www.30hertzrecords.com
Altai Kai: Spring Water () (4:13)
Recorded at WOMAD 2008, Saturday 26 July
Camille: Canards Sauvages (Camille) (3:39)
Album: Music Hole
EMI 5099920695927, track 2
http://www.camille-music.com
Yusa: Conga Pasajeras (Yusa) (3:05)
Album: Haiku
Tumi Music TUMI143, track 5
http://www.yusa.co.uk
http://www.tumimusic.com
Kono Michi: When I Don't Come Back (Michi Wiancko) (4:06)
Album: The Livingroom Disappearance EP
Shark Batter Records
http://www.sharkbatter.com
Arun Ghosh: Greenhouse (Traditional arr. Arun Ghosh) (6:39)
Album: Northern Namaste
Camoci Records CAMOCI001, track 9
http://www.arunghosh.com
http://www.camoci.co.uk
Wendo Kolosoy and Henry Bowane: Marie Louise () (3:21)
Album: The Rough Guide to Congo Gold
Rough Guide RGNET1200PR, track 1
http://www.worldmusic.net
Sir Victor Uwaifo: Dododo (Ekassa 1) (Victor Uwaifo) (3:50)
Album: Guitar Boy Superstar 1970–76
Soundway Records SNDWCD012, track 16
http://www.soundwayrecords.com
Mamani Keita and Nicholas Repac: Flute () (3:50)
Recorded at WOMAD 2008, Saturday 26 July
Orchestra Baobab: Utru Horas (Rudy Gomis) (8:40)
Recorded at WOMAD 2008, Saturday 26 July
Mec Yek: Atsh Mamo (Mec Yec) (1:33)
Mec Yek: Loli Paraditshka (Mec Yec) (3:15)
Album: Antikrisis
Choux de Bruxelles CHOU0802, track 2
http://www.myspace.com/mecyec
Allá: Una dia otra Noche (Jorge Ledezma) (3:04)
Album: Es Tiempo
Crammed Discs CRAM 133-P, track 1
http://www.myspace.com/estiempo
http://www.crammed.be
Lonely Drifter Karen: Giselle (Tanja Frinter) (4:22)
Album: Grass is Singing
Crammed Discs CRAM 132-P, track 11
http://www.lonelydrifterkaren.net
http://www.myspace.com/lonelydrifterkaren
http://www.crammed.be
Otis Taylor: Prophets' Mission (Alvin Youngblood Hart) (3:22)
Album: Recapturing the Banjo
Telarc Advance 83667, track 2
Abida Parveen: Le Chala Jaan (Daagh) (6:37)
Album: The Very Best of Abida
Times Music TDIGH015C, track 3
http://www.timesmusic.com
Last on
Seven pioneering figures in world music
BBC Introducing on World on 3