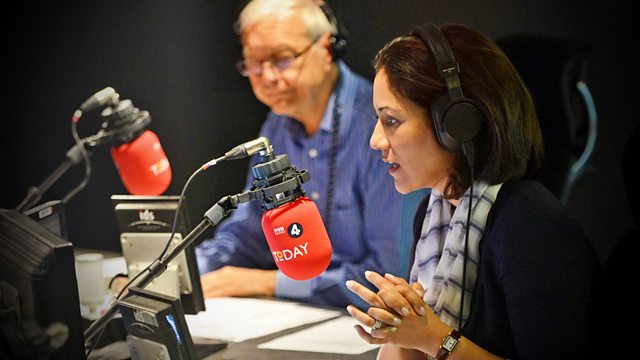 21/08/2008
Presented by John Humphrys and Sarah Montague.
Including:
Henrietta Ellekrog and Kieron Daly discuss possible causes of the Madrid plane crash.
Liberal Democrat leader Nick Clegg explains his vision for energy usage by 2050.
Anastasia de Waal of Civitas discusses the results of a report criticising vocational courses.
Mark Almond, Lecturer in Modern History at Oriel College, discusses Russia's plan to freeze military ties with Nato.
Bob Walker reports on the national census, which is coming under criticism from a think tank.
Richard Black reports on the stowaway snails at Cliveden House in Buckinghamshire.
Thought for the Day with Elaine Storkey, president of Christian relief and development agency Tearfund.
John Zogby, president of Zogby International, discusses the importance of Barack Obama's decision on his running mate.
Schools minister Lord Adonis and head teacher Joan McVittie discuss targets on failing schools.
Prof Robert Winston and Prof Noel Sharkey discuss the prospect of robots in hospital wards.
Hamish Pringle, Director General of the Institute of Practitioners in Advertising, discusses sponsorship for athletes competing in the Olympics.
Kevin Connolly reports from a steak house in Amarillo, Texas, where customers are given a 72oz steak for free if they can eat it in less than an hour.
Peter Jones and Doctor Nic Cheeseman discuss the fate of former Pakistan president Pervez Musharraf.
Prof Alan Smithers and Andrew Cave of the Federation of Small Businesses discuss whether vocational skills and qualifications are working.
Last on