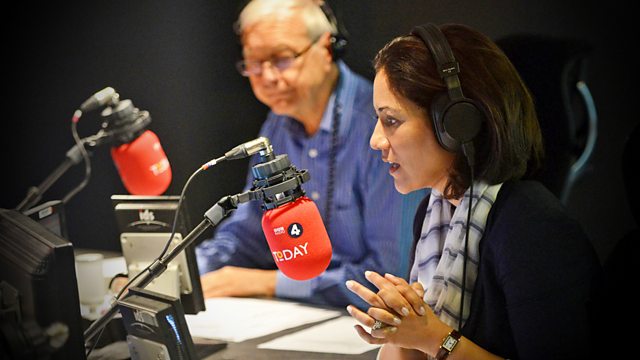 19/08/2008
Presented by James Naughtie and Edward Stourton.
Including:
Tube Lines chief executive Terry Morgan and RMT General Secretary Bob Crow discuss the current dispute.
Dr Zoe Hilton, who advises the NSPCC, explains her concerns over the release of Gary Glitter from prison.
Andrew Wilson, senior policy fellow at the European Council on Foreign Relations, explains how the crisis in Georgia has affected the Ukraine.
Jemima Harrison and Caroline Kisko, secretary of the Kennel Club, discuss endangered breeds of dogs.
Journalist David McKitterick and Paul Leighton, Deputy Chief Constable of Northern Ireland Police, discuss the use of Semtex in Northern Ireland.
Thought for the day with Vishvapani, a member of the Western Buddhist Order.
Nato foreign ministers are gathering in Brussels for an emergency summit to discuss how the alliance should respond to Russia's military action in Georgia. Jessica Barry, spokeswoman for the International Committee of the Red Cross, explains the situation.
John Major discusses whether lottery funding, which he began in 1994, is behind recent Olympic successes.
Nick Jones and Michael Dobbs explain how a leader's final speech creates a lasting impression.
Author Ron Susskind and former MI6 chief Sir Richard Dearlove discuss the intelligence gathered before the Iraq war.
Vic Hopkin of the Board of British Cycling discusses the planning and development of the Redbridge Cycling Centre.
How should Russia's actions in Georgia be interpreted by the international community? General Sir Michael Jackson, former head of the army, and historian Anthony Beevor discuss the resurgent Russian bear.
Last on