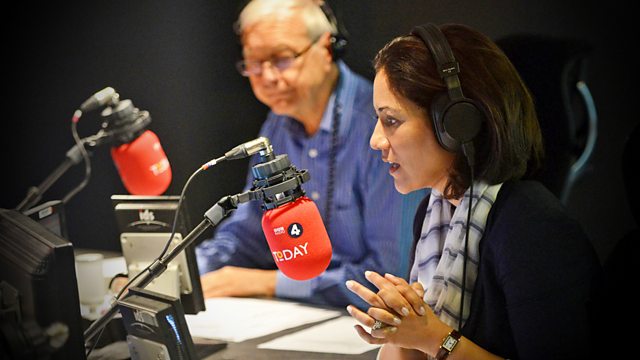 18/08/2008
Presented by James Naughtie and Edward Stourton.
Including:
Prof David Taylor of the University of London discusses how much the NHS spends on drugs.
British Olympians have claimed eight gold medals in one weekend. Andy Swiss reports from Beijing.
Winifred Robinson looks at how the police are dealing with gun and knife crime among local teenagers in Liverpool.
Thought for the Day with Reverend Dr Alan Billings.
British Chambers of Commerce Director General David Frost discusses the economic situation.
Former British athlete Kriss Akabusi and Simon Clegg of the British Olympic Association assess sporting success and evaluate the UK's chances for the rest of the Olympics.
Sir Michael Rawlins, chairman of the health body NICE, discusses whether drug companies are overcharging for their products.
Jeremy Scahill, author of Blackwater: The Rise of the World's Most Powerful Mercenary Army, examines the investigation into the shooting of 17 Iraqi civilians last year.
Michael Leapman shares his tips for growing prize-sized vegetables.
A catalogue of publicly owned paintings is being compiled for the first time. Steve Blears reports on where some of them can be found.
Pakistani President Pervez Musharraf, who is facing increasing pressure to resign, is addressing the nation. Chris Morris reports from Islamabad and writer Tariq Ali discuss what he thinks will happen.
Last on