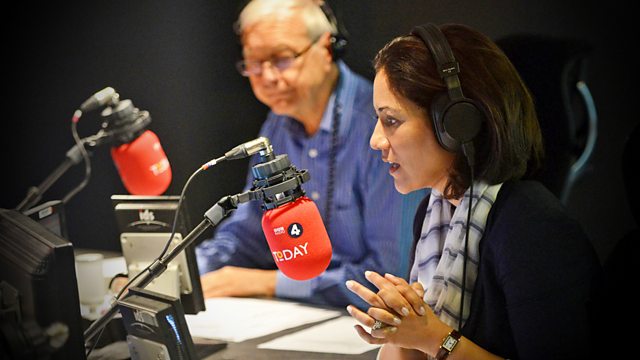 16/08/2008
Presented by John Humphrys and James Naughtie.
Including:
Georgia has signed a ceasefire agreement with Russia, but is ot being observed? Gabriel Gatehouse and Richard Galpin report from Georgia. Kurt Volker, US principal deputy assistant secretary for European and Eurasian affairs, discusses the situation.
Transport correspondent Tom Symonds reports on how BAA may be asked to sell at least two airports.
Karen Allen reports on the political stalemate following talks to resolve the situation in Zimbabwe. Prof Stephen Chan and Hebson Makuvise of the MDC discuss the problems facing the country.
The Walthamstow dog track, probably the most famous in Britain, is to close after 75 years. Local MP Neil Gerrard marks the end of years of racing as the site is sold to housing developers.
Britain's double gold medal winner Rebecca Adlington says she is overwhelmed by the attention.
Around 50 detainees at the Campsfield immigration removal centre in Oxfordshire are on hunger strike. Keith Best, Chief Executive of the Immigration Advisory Service, explains what is happening.
Stuart Hall imagines what London's Olympic opening ceremony would be like in 2012.
BAA chairman Nigel Rudd and Conservative transport spokesperson Theresa Villiers discusses the future of Heathrow.
Nicola Stanbridge watches a truffle hound at work.
As the conflict in Georgia continues to worry international observers, Caroline Wyatt reports from Moscow and General Nikolai Uvarov explains Russia's view.
Lord Baker and cartoonist Martin Rowson discuss the return of the bear as the symbol of Russia.
Prof David Forrest explains his alternative medal table for Olympic success.
Last on