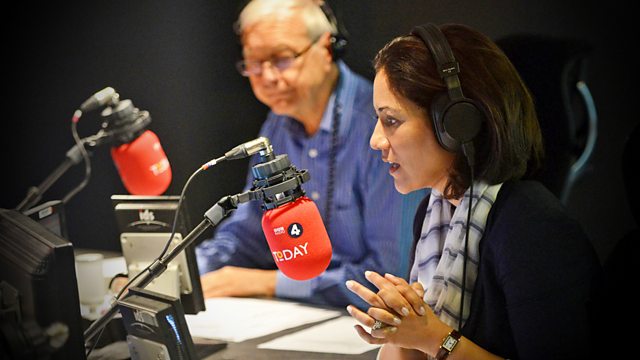 11/08/2008
Presented by Evan Davis and Edward Stourton.
Including:
Penny Wilson-Webb, chief executive of the Rarer Cancers Forum, discusses cancer treatment.
Maia Kardava of the Red Cross discusses the humanitarian problems in Georgia.
CBI Director General Richard Lambert discusses how schools can promote science more effectively.
Elliot Morley of the All Party Parliamentary Water Group and Pamela Taylor, of Water UK discuss possible rises in water prices.
Shadow Justice Secretary Nick Herbert and Sally O'Neill QC discuss proposals to tighten bail laws.
Georgi Bardidze, Georgian charge d'affaires in London, and Dmitri Peskov, a spokesman for Russian Prime Minister Vladimir Putin, discuss the conflict in Georgia.
Rick Stein says that cookery should be classed as an art. He discusses the idea with food critic Tom Lubbock.
Tim Sampson of the Stax Museum of American Soul pays tribute to Oscar-winning American soul singer Isaac Hayes, who has died at the agde of 65.
Author Bill Bryson, current president of the Campaign for Rural England, is to present a Panorama programme about litter. He discusses his Notes on a Dirty Island.
Diplomatic correspondent Bridget Kendall and Minister for Europe Jim Murphy discuss President George Bush's reaction to the conflict between Russia and Georgia.
Matthew Syed and Simon Kuper discuss why a small number of countries dominate certain sports.
Last on
So you think you know the Today programme?