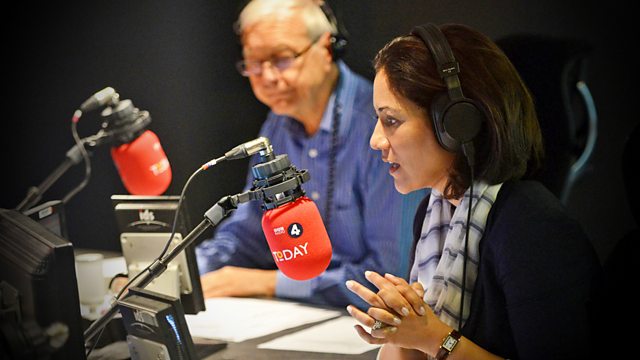 13/08/2008
Presented by James Naughtie and Evan Davis.
Including:
Daily Telegraph editor-at-large Jeff Randall reveals the depth of Prince Charles's fears about GM crops. Soil Association director Patrick Holden and former Northern Foods chairman Lord Haskins discuss the prince's views.
Former US ambassador to the United Nations Richard Holbrooke discusses the conflict in South Ossetia.
Former Olympic champion Matthew Pinsent talks about the drive needed to win a gold medal and repeat the performance.
Oliver Hartwich, author of the Policy Exchange report, and Peter Kilfoyle, MP for Liverpool Walton, discuss whether residents of Liverpool should move to Oxford and Cambridge.
Andy Swiss reports from the Beijing Olympics.
Prof Jonathan Waxman and former Health Secretary Frank Dobson discuss the effectiveness of NICE. Prof Peter Littlejohns responds.
Foreign Secretary David Miliband talks about the conflict between Russia and Georgia. Edward Stourton reports from the Georgian capital Tblisi.
llan Little reports from Johannesburg on the possibility of a power-sharing deal in Zimbabwe.
Former Olympic champion Duncan Goodhew and England bowler Monty Panesar discuss the science of sports psychology.
Russian Charge d'Affaires Andrei Chupin discusses whether Russia has received unfair press coverage over the conflict in Georgia.
Last on