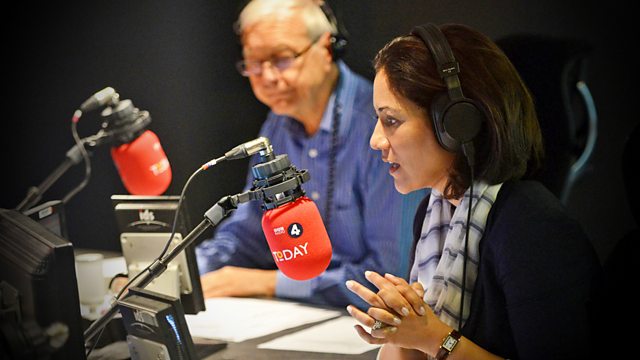 12/08/2008
Presented by James Naughtie and Evan Davis.
Including:
Justin Webb reports from Washington on US reaction to the conflict in Georgia.
Foreign Office Minister Meg Munn says Britons should plan ahead to avoid trouble on holiday.
Ray Buchanan reports on the fishermen challenging the restrictions on a form of sea fishing in Cumbria.
Simon Rubinsohn of the RICS discusses the current state of the housing market.
Lawyer Debaleena Dasgupta explains why alcohol should not be taken into account in rape cases. Justice Minister Bridget Prentice clarifies government policy.
Bob Walker reports on the start of the shooting season for Red Grouse.
George Buckley of Deutsche Bank discusses inflation and how it could rise.
Denis Keefe, Britain's ambassador in Georgia, discusses the chance of a ceasefire in South Ossetia.
Authors Christopher Brookmyre and Mark Borkowski discuss if the love of fame and fascination with stars will peter out.
Jane Peel reports on attempts to save a boatyard in Oxford from development into housing.
Professor Johnny Chan of the City University of Hong Kong discusses the rain rockets used for the opening ceremony at the Beijing Olympics.
A collection of Dylan Thomas's inscribed books, letters and manuscripts is for sale. Bookseller Rick Gekoski discusses the quality of the pieces.
Simon Sebag Montefiore, biographer of Josef Stalin, discusses the conflict in Georgia.
Last on