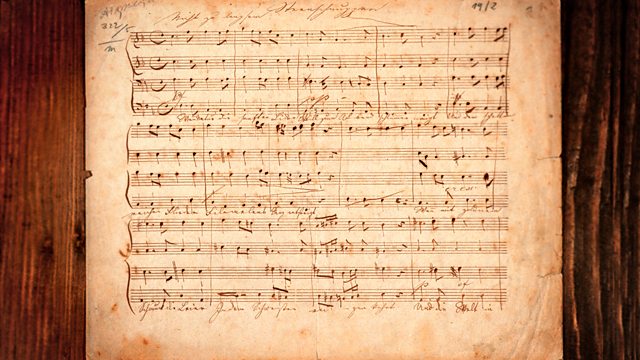 Crushed
Readers Rafe Spall and Abigail Davies.
'In the end it took me a dictionary to find out the meaning of unrequited'. So sings the Saturday Boy in Billy Bragg's evocation of the pain of unrequited love. The dictionary would only have told him that unrequited means unreturned. Looking into the world of music and poetry he would have found that unrequited love is much more complex and nuanced.
Schooldays are often the start, also for Gwyneth Lewis in her poem 'To the boys I loved who never loved me' which brings back memories of adolescence and makes an important statement in this territory: I was never made less by loving you more. Unrequited Love can leave someone a sad, winsome and even quite pathetic figure. However, in reading poetry and listening to music that dealt with this idea it soon becomes clear that once the hope is gone, how the person deals with the love and longing that remains is fertile ground.
The physical decline of Miss Haversham's dress and rooms might be shocking, and the still upper lip fortitude found in the Houseman poetry quite painful, but the determination and self–knowledge demonstrated by both are things I found to be noble and empowering.
The idea of a carrying something inside that isn't just going to go away is also explored in Simon Rae's poem 'Believed'. This isn't about unrequited love, but is nonetheless a longing for something that's never going to happen. There is perhaps in all of us a longing for the things we didn't do, the words unspoken, people unkissed, journeys not taken.
This is also touched on in Sophie Hannah's poem To the Memory of Love where Love was Not. Unrequited Love can be painful, and the love that remains after hope has gone can be the most painful of all. Sophie Hannah reminds us that however painful the feelings, at least those feelings are there, true and present, and in some way make us real.
There's a great deal of music that can be related to unrequited love. Brahms and Berlioz come to mind for their devotions to Clara Schumann and Harriet Smithson respectively. Billie Holiday had to be there not just for the song – she sings 'Love me or Leave me' here – but for her own life and that voice that carries so much loss and pain so beautifully. The plangent dissonances of early string music are so reminiscent of the pains and stabs of love, and I've included music by Gibbons and Biber. To finish, I have included the quintet from Wagner's Die Meistersinger where Hans Sachs, one of the most humane and complex of all operatic characters sings of how 'the heart's sweet burden had to be subdued' and renounces his love for Eva.
GIBBONS
Fantasia No.3
Consorts For Viols
Laurence Dreyfus/ Phantasm
Avie AV0032
CAROL ANN DUFFY
Warming her Pearls
Read by Abigail Davies
NYMAN
Trysting Fields
Film Music 1980–2001
Michael Nyman Band
Virgin CDVED957
SIMON RAE
Believed
Read by Rafe Spall
BRAHMS
Intermezzo in C Sharp Minor
Two Rhapsodies
Radu Lupu
Decca 4175992
A. E. HOUSMAN
XXXI (Because I liked you)
Read by Rafe Spall
NOEL COWARD
Mad About the Boy
All Woman 3
Dinah Washington
Quality TV ALLWOCD03
BEETHOVEN
Variations On Bei Männern Welche Liebe Fühlen
Variations for Piano and Cello in E Flat Major
Jacqueline du Pré/ Daniel Barenboim
EMI CMS 7630152
BEN JONSON
Song to Celia
Read by Rafe Spall
BERLIOZ
Un Bal
Symphonie Fantastique
Berlin Philharmonic
DG 415325-2
DICKENS
From Great Expectations
Read by Abigail Davies
TCHAIKOVSKY
Pezzo in forma di Sonatina
Symphony 4
Bournemouth Symphony Orchestra
Virgin VC 7907982
JOBIM/ DE MORAES/GIMBEL
The Girl From Ipanema
Nigel Kennedy Plays Jazz
Nigel Kennedy / Peter Pettinger
Chandos CHAN 6513
HEINRICH HEINE
Why is the Rose so Pale
Read by Abigail Davies
MOZART
Adagio Piano Concerto No. 23 in A Major K488
Piano Concertos
Daniel Barenboim/ English Chamber Orchestra
EMI 7691222
EMILY DICKENSON
The Heart asks Pleasure First
Read by Abigail Davies
JANACEK
String Quartet No.2,"Intimate Letters"
String Quartets
Vanbrugh String Quartet
Harper Collins 13812
F SCOTT FITZGERALD
Excerpt from the Great Gatsby
Read by Rafe Spall
DONALDSON / KAHN
Love me or leave me
The Very Best of Billie Holiday
Billie Holiday
Verve 5474942
RUPERT BROOKE
Love
Read by Rafe Spall
SOPHIE HANNAH
The Memory of Love where Love was Not
Read by Abigail Davies
BIBER
Rosary Sonata No.1 "The Annunciation"
Rosary Sonatas
Pavlo Beznosiuk/ David Roblou
Avie AV 0038
PETRACH
Canzoniere I
Read by Rafe Spall
SHAKESPEARE
Sonnet 149
Read by Rafe Spall
GWYNETH LEWIS
To the Boys I Loved Who Never Loved Me
Read by Abigail Davies
BILLY BRAGG
The Saturday Boy
Brewing Up With Billy Bragg
Billy Bragg
Cooking Vinyl COOKCD 107
ELIZABETH BARRETT BROWNING
Sonnets from the Portuguese, XIII
Read by Abigail Davies
HANDEL
Ombra Mai Fù
La Lucrezia
Last on