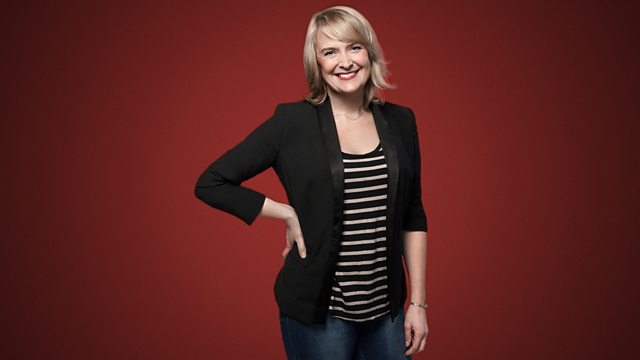 10/08/2008
Mary King sits in for Iain Burnside and explores the world of left-handed musicians, composers and performers - who include CPE Bach, Mozart, Scriabin, Ravel, one of the Beatles and Iain himself.
Including:
Bach: Goldberg Variations, BWV 988 (Variation 1)
Glenn Gould (piano) - 1984 recording
CBS M3K79358
Bach: Goldberg Variations, BWV 988 (Variation 1)
Glenn Gould (piano) - 1955 recording
CBS 1479
CPE Bach: Symphony in F, Op 183 No 3
Akademie fur Alte Musik, Berlin
Stefan Mai (conductor)
Harmonia Mundi HMC901622
Hummel: Trumpet Concerto in E flat, S49
Wynton Marsalis (trumpet)
National Philharmonic Orchestra
Raymond Leppard (conductor)
Sony CBS Masterworks 37846
Cole Porter: Any Tom Dick or Harry (Kiss me Kate)
Broadway Cast Recording
DRG 12988
Ravel: Concerto in F for left-handed piano and orchestra
Leon Fleisher (piano)
Boston Symphony Orchestra
Seiji Ozawa (conductor)
Sony Classical SK47188
Lennon and McCartney, arr. Daryl Runswick: Blackbird
The Kings Singers
EMI Cdkings2
Leoncavallo: Vesti la Giubba (I Pagliacci)
Enrico Caruso
Pearl GEMMCD9309
Django Reinhardt: Improvisation No 1
Django Reinhardt (guitar)
Castle Pie Pie SD233
Beethoven: String Quartet, Op 130 (Cavatina)
Emerson Quartet
DG 444 0752
Paganini: Caprice No 13
Midori (violin)
CBS CD44944
Scriabin: Le divin poeme (Jeu divin)
Russian National Orchestra
Mikhail Pletnev (conducting)
DG 4596812
Mozart: Symphony No 39, K543
Prague Chamber Orchestra
Charles Mackerras (conductor)
Telarc CD80203.
Last on