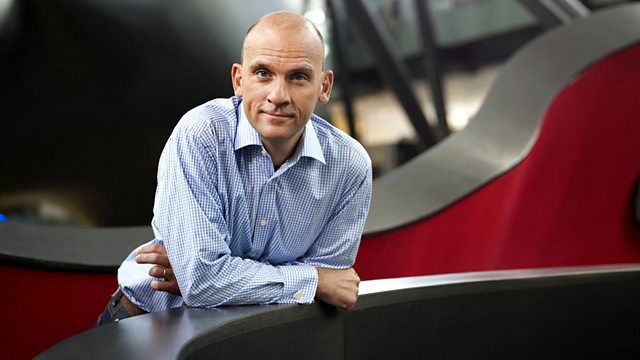 Medeski, Scofield, Martin and Wood
Jez Nelson presents another chance to hear one of the programme's most requested sets from US jazz-funk fusion supergroup Medeski Scofield Martin and Wood, recorded at the Barbican in July 2007. The trio consisting of Hammond-organist John Medeski, drummer Billy Martin and bassist Chris Wood first collaborated with former Miles Davis guitarist John Scofield on the latter's 1998 album, A Go Go.
Considered to have a wide appeal, the quartet's music is rooted in funk and the blues as well as in the jazz improvisation tradition, with the versatile Scofield having in the past collaborated with musicians such as Gary Burton, Steve Swallow, Pat Metheny and Bugge Wesseltoft, as well as DJ logic.
Medeski, Scofield, Martin & Wood Recorded at the Barbican July 2007
Presenter: Jez Nelson
Producer: Peggy Sutton
Jazz On 3 signature tune
Artist Russell Gunn (Russell Gunn – trumpet, Gregory Tardy & Bruce Williams – reeds, Andre Heyward – trombone, Chieli Minucci – guitar, James Hurt – keyboards, Rodney Jordan – bass, Woody Williams – drums, Khalil Kwame Bell – percussion, DJ Apollo - turntables)
Track Title Seventy Four Miles Away
Composer Joe Zawinul
Album Title Ethnomusicology Volume 1
Label Atlantic
MEDESKI, SCOFIELD, MARTIN & WOOD LIVE AT THE BARBICAN JULY 2007
LINE-UP:
John Medeski – Hammond organ, Rhodes piano, Wurlitzer, clavinet, mellodica and Mellotron
John Scofield – guitar
Billy Martin – drums
Chris Wood – bass
PART 1
SET LIST:
Track Title – A Go Go
Composer – John Scofield
Track Title – Cachaca
Composer – Chris Wood
Track Title – Little Walter Rides Again
Composer – John Scofield
Track Title – Down The Tubes
Composer – Medeski, Scofield, Martin & Wood
Track Title – Deadzy
Composer – John Scofield
Track Title – What Now
Composer – Medeski, Scofield, Martin & Wood
PART 2
SET LIST:
Track Title – Hanuman
Composer – Medeski, Scofield, Martin & Wood
Track Title – Miles Behind
Composer – Medeski, Scofield, Martin & Wood
Track Title – Hottentot
Composer – John Scofield
LINKS:
www.myspace.com/medeskiscofieldmartinandwood
www.mmw.net
www.johnscofield.com
RECOMMENDED FURTHER LISTENING:
Artist – Medeski, Scofield, Martin & Wood
Album – Out, Louder
Label – Indirecto Records (2007)
Artist – John Scofield
Album – A Go Go
Label – Verve (1997)
Last on