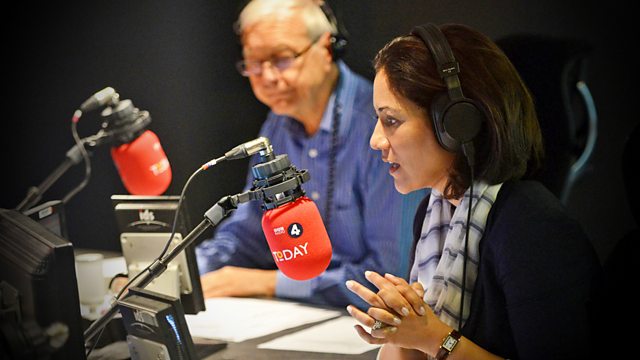 04/08/2008
Presented by Edward Stourton and James Naughtie.
Including:
Author DM Thomas and former BBC documentary maker Archie Barron discuss the life of Alexander Solzhenitsyn, who has died at the age of 89.
A new ferry service connects the Scottish island of Jura directly to the mainland, the first direct link to the island for 30 years. James Shaw reports.
A cross-party committee of MPs is critical of the government's plans for a graduated car tax. Conservative Tim Yeo, chair of the Environmental Audit Committee, and former Labour minister Peter Kilfoyle discuss whether drivers will benefit.
Researchers at the Health Protection Agency say that vaccinating children under five against flu will cut the number of infections and even deaths among the elderly. Prof Steve Field of the Royal College of GPs discusses.
11 climbers are feared dead after an avalanche on the mountain K2 in the Himalayas. Irish mountaineer Terrence Bannon talks about how he knows one of those who is missing.
Thought for the day with Rev Dr Alan Billings.
Shadow Schools Secretary Michael Gove claims that the education system is perpetuating inequality in England and that reforming schools, along with strengthening families, is the way to a fairer society. He discusses his idea with Schools Minister Jim Knight.
It is 27 years since Brian Eno teamed up with David Byrne of Talking Heads to record the landmark album My Life in the Bush of Ghosts. They are back together to record a new work, to be released on the internet. Mark Coles reports.
A new film of Brideshead Revisited has just opened in the US to a poor reception from critics. Giles Foden of the University of East Anglia and novelist Deborah Moggach discuss the dangers of trying to adapt novels for the big screen.
Last on
Call 0800 082 82 84 to donate to the Radio 4 Christmas Appeal
Life Inside 'Islamic State': Diaries