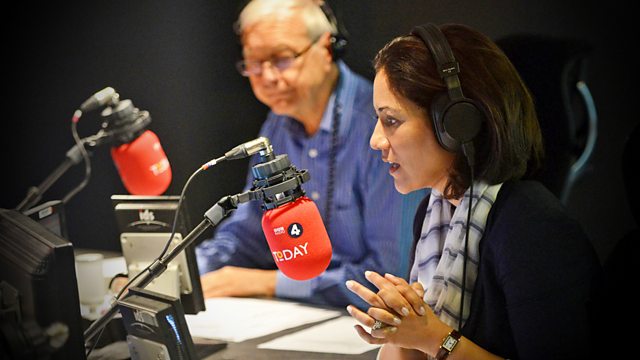 08/08/2008
Presented by James Naughtie and Evan Davis.
Banking analyst Ralph Silva discusses the future of the banking sector.
Edward Lucas, author of The New Cold War, discusses the clashes in Georgia.
Mark Thomas of Shelter and Peter Bolton King of the National Association of Estate Agents discuss how far the government should intervene in the housing market.
Ian Kearns of the think tank IPPR discusses why he supports the government's new risk register.
Siladitya Battacharya and Prof Robert Winston discuss fertility treatments.
Evan Davis sets off to see how easily he can hitch to Bournemouth. Two experienced hitchers, Simon Usborne and Tony Hawks, discuss his attempt.
Conservative MEP Edward McMillan-Scott discusses why he has been campaigning for a boycott of the Olympic Games.
Jon Moulton of Alchemy Partners and Terry Smith of Tullett Prebon discuss the Royal Bank of Scotland's reported losses.
Democrats worry that Barack Obama has not put enough distance between himself and his Republican rival John McCain. North American editor Justin Webb reports.
Olympics Minister Tessa Jowell discusses the games with Garry Richardson.
The Olympics opening ceremony will begin at eight minutes past eight on the eighth day of the eighth month of the eighth year of the century. Numerologist Sonia Ducie discusses the Chinese lucky number.
Wilco Van Rooijen talks about being airlifted to safety in the K2 tragedy.
The MBA business degree is not just useless but positively dangerous, a new book argues. Author Philip Delves Broughton and Sean Rickard of Cranfield School of Management discuss.
Last on
So you think you know the Today programme?