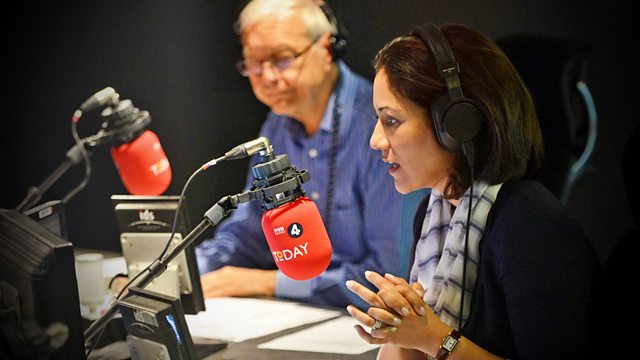 06/08/2008
Presented by James Naughtie and Evan Davis.
Including:
Chris O'Ferrell discusses America's largest ever identity theft case.
ITV Chairman Michael Grade discusses the company's results.
Conservative health spokesman Andrew Lansley and Health Minister Ivan Lewis discuss the problems with cleanliness in NHS hospitals.
Sushil Wadhwani, former MPC member, and Geoffrey Robinson, former paymaster general, discuss the Monetary Policy Committee and interest rates.
Former Channel Five chief executive David Elstein discusses ITV's fall in profits.
Julie Burchill discusses her latest polemical book Not In My Name: A Compendium of Modern Hypocrisy.
Sir John Holmes sums up the state of humanitarian aid in Burma.
The funeral of Alexander Solzhenitsyn is due to take place in Moscow's Donskoi Monastery Cathedral. Richard Galpin reports.
Protesters are setting sail from Cyprus this weekend to take medical supplies to Gaza. Campaigner Lauren Booth and former Labour MP Lorna Fitzsimons discuss.
David Scott of the Sevenoaks and District Dog Training Society discusses whether yawning is contagious.
Critic Michael Billington and actor Simon Russell Beale discuss the new Royal Shakespeare Company production of Hamlet, featuring David Tennant in the title role.
Last on