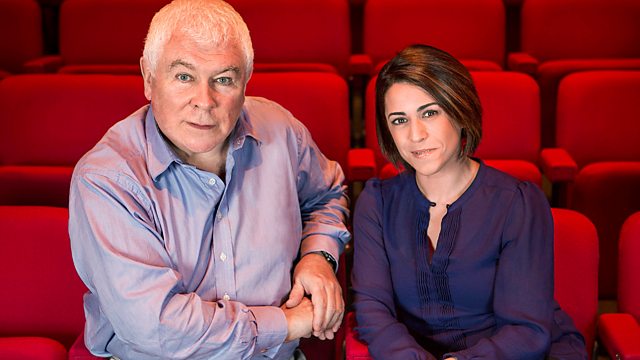 07/08/2008
Petroc Trelawny presents a selection of music and guests from the arts world. With conductors Leonard Slatkin and Gianandrea Noseda, joined by their respective Proms soloists for upcoming concerts - pianist Olga Kern and soprano Barbara Frittoli.
Maestro Clip – Jane Asher with Joanna Lumley
including: Grieg In the Hall of the Mountain King
BBC Concert Orchestra
Dur: 2'37
Interview with Jane Asher & Christopher Warren-Green
clip from MAESTRO series: various people having first lesson.
Dur: c. 2'25
Mozart Marriage of Figaro – overture
London Philharmonic Orchestra
conductor Sir Georg Solti
DECCA 417 395 2
Tr. 1: 3'55
BBC TWO's new series 'Maestro' is showing from next Tuesday on BBC TWO, with a contestant being voted out each week by the judging panel and the BBC Concert Orchestra. The grand finale of the competition takes place at the Proms in the Park in Hyde Park on 13th September, before the Park links up to the Royal Albert Hall for the Last Night of the Proms.
Verdi Forse la soglia…Ma se m'e forza perderti (Un ballo in maschera)
Jose Carreras (tenor)
Orchestra of the Royal Opera House, Covent Garden
conductor Sir Colin Davis
PHILIPS 434 151 2
Tr. 7: 5'30*
Stanford Irish Rhapsody no.5
Ulster Orchestra
conductor Vernon Handley
CHANDOS CHAN 8545
Tr. 5: 14'25*
Philippe de Monte Misere me dues
Cinquecento
Hyperion CDA 67658
Tr.1: 3.06
Rossini Barber of Seville: overture
Philharmonia Orchestra
conductor Carlo Maria Giulini
EMI 228281 2
Tr. 2: 7'21*
Biber Battalia
Concertus musicus Vienna
director Nikolaus Harnoncourt
TELDEC 2564 69618 4
CD 1
Tr.4: 7'27*
Chen Yi Dance (Romance & Dance for 2 violins & string orchestra)
Cho-Liang Lin (violin)
Yi-Jia Susanne Hou (violin)
Singapore Symphony Orchestra
conductor Lan Shui
BIS CD 1352
Tr. 7: 4'10*
Mussorgsky/Rachmaninov - Hopak from Sorochinskaya yarmarka c.1'36 Olga Kern (piano)
Prokofiev - Etude in C minor, Op.2 no.4c.1.21
Olga Kern (piano)
Leonard Slatkin & Olga Kern c.5'00
Vaughan Williams Symphony no.6: 1st mvt (Allegro)
Philharmonia Orchestra
conductor Leonard Slatkin
RCA RD 60556
Tr. 5: 7'40*
Tchaikovsky: Kolybel'naja pesnja (Lullaby) Op.16 No.1
Patricia Rozario (soprano)
Julius Drake (piano)
3'20 + appl
Recorded at the 2008 Mananan International Festival of Music and the Arts
Puccini E ben altro il mio sogno! (Il tabarro). (My dream is quite different!)
Giorgetta.....Maria Guleghina
Luigi......Neil Shicoff
La Frugola
London Symphony Orchestra
conductor Antonio Pappano
EMI 556587 2
CD 1 Tr. 9
i/v Gianandrea Noseda (+ Barbara Frittoli) c.5'30
Puccini Turandot – Signore ascolta
Barbara Frittoli
Maggio Musicale Florentina
RCA 60617
CD 1 Tr. 9: 2'33
Rachmaninov Symphony : 'Youth Symphony' in D minor
BBC Philharmonic
conductor Gianandrea Noseda
CHANDOS CHAN 10475
Tr.2:
Debussy – Arabesque No.1
Monique Haas
Teldec 2564695498
Tk.1: Dur. 3.46
Last on