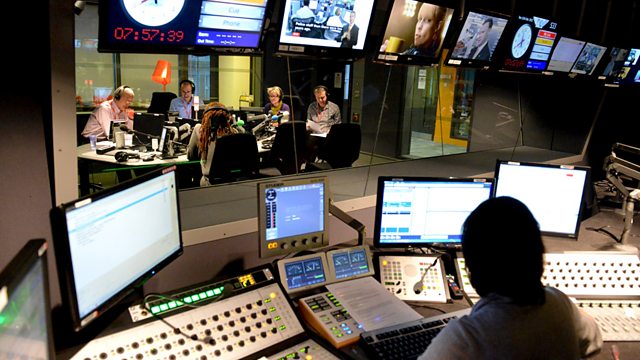 02/08/2008
Presented by Evan Davis and James Naughtie.
Including:
Home Information Packs are not being given out by some estate agents, the Law Society suggests. Nick Salmon of the National Association of Estate Agents and Paul Marsh of the Law Society, discuss whether HIPs are working.
A number of rare recordings, digitally cleaned up, are the subject of The Man Who Invented Stereo, a Radio 4 documentary about a lost genius called Alan Blumlein. Presenter Martin Shankleman discusses the electronics engineer.
Thought for the Day with Reverend Rob Marshall an Anglican Priest.
Barry George has been acquitted on appeal of the murder of BBC television presenter Jill Dando outside her London home. Barrister William Clegg QC, who defended George, discusses the verdict.
The proposed new coal-fired power station at Kingsnorth in Kent has been the subject of a prolonged protest. Dr Simon Lewis of Leeds University and Dr David Brown of the Institution of Chemical Engineers discuss whether coal should have a place in future energy supplies.
The International Gilbert and Sullivan Festival is beginning. Bernard Lockett, a speaker at the festival, explains the lasting appeal of the duo.
Labour MPs continue to talk among themselves about David Miliband's article on how to revive the party's fortunes. Labour MP John McDonnell and former Deputy Prime Minister Michael Heseltine discuss rumours of a leadership contest.
During the Great Depression of the 1930s, many Americans chose to migrate to the Soviet Union. Their story did not end happily, with many ending up in Stalin's gulags. Author Tim Tzouliadis and Edward Lucas of The Economist discuss their journey.
Last on
Paddington creator Michael Bond talks to Today