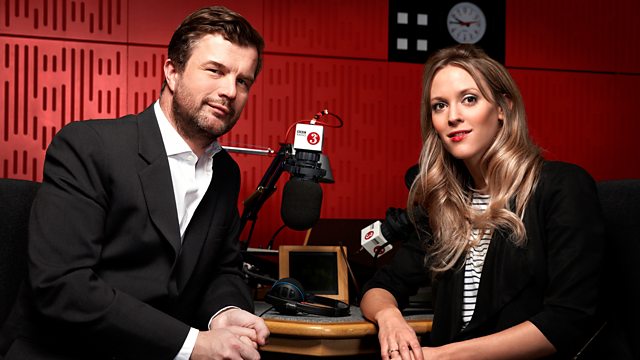 29/07/2008
With Rob Cowan.
Including:
Charpentier: Les Arts florissants
Les Arts Florissants
William Christie (director)
Liszt: Gnomenreigen
Mikhail Pletnev (piano)
Mendelssohn: Overture (A Midsummer Night's Dream)
Leipzig Gewandhaus
Kurt Masur (conductor)
Tomkins: Oft did I marle how in thine eyes
I Fagiolini
Chopin: Mazurka in A flat
Alicja Fiderkiewicz (piano)
Field: Quintetto in A flat
David Juritz, Jennifer Godson (violin)
Sarah-Jane Bradley (viola)
Julia Desbruslais (cello)
Miceal O'Rourke (piano)
Leroy Anderson: Song of Jupiter
David McCallum (trumpet)
BBC Concert Orchestra
Leonard Slatkin (conductor)
Sibelius: Festivo (Scene historiques)
Norwegian Radio Orchestra
Ari Rasilainen (conductor)
Gabrieli: Canzon a 12
Empire Brass
Butterworth: Two English Idylls
Halle
Mark Elder (conductor)
Schubert: Auf dem Strom
Barbara Hendricks (soprano)
Bruno Schneider (horn)
Radu Lupu (piano)
Haydn: Trio No 35
Trio Fontenay
Dario Castelo: Sonata seconda a soprano solo
Pamela Thorby (recorder)
Andrew Lawrence-King (psaltery)
Tchaikovsky, arr. Glazunov: Meditation (Souvenir d'un lieu cher)
Baiba Skride (violin)
CBSO
Andris Nelsons (conductor)
Chopin: Ballade No 3 in A flat, Op 47
Ivan Moravec (piano)
Handel: Lascia ch'io pianga (Rinaldo)
Danielle de Niese (soprano)
Les Arts Florissants
Williams Christie (director)
Debussy: Danses for harp and strings
Xavier de Maistre (harp)
Members of the Vienna Philharmonic
Rossini: Overture (Il signor bruschino)
Orpheus Chamber Orchestra
Elgar: Nimrod
Black Dyke Band
Nicholas Childs (director)
Bach, arr. Busoni: Chaconne (Partita in D minor, BWV 1004)
Dong-Hyek Lim (piano)
Ivanovici: The Danube Waves
Philadelphia Orchestra
Euguene Ormandy (conductor).
Last on